Welcome to our roundup of the best 4 person tents on the market just now!
We've done all sorts of camping and backpacking so we know what it takes to make a tent a success. We've done all the hard work and found the best four-person tent models on the market today.
Whether you're looking for a tent for backpacking, car camping with the family, or living it large at a festival with friends, we've got you covered.
So lets jump in and find which tent is the one for you!
If you're in a rush, the best 4 person tents are:
Scroll right to view all products >
| | | | | | |
| --- | --- | --- | --- | --- | --- |
| | Best Overall | Best Budget Option | Best for Backpacking | Most Comfortable | Quickest Setup |
| | | | | | |
| Ranking | 1st | 2nd | 3rd | 4th | 5th |
| Rating /5 | | | | | |
| Review | A quality tent with two vestibules offering plenty of space, ideal for family car camping | For campers on a budget, the Sundome comes with a simple setup great for beginners  | Not just ultralight but ultra-strong too | If you're looking for some comfortable luxury, this cabin tent is great for hanging out in | This pop-up tent lets you relax on arrival with instant setup |
| | | | | | |
Quick 4-person tent recommendation
Don't have time to stick around today? That's fine, if you want our quick thoughts on these tents here's a quick recommendation.
If you're looking for a tent for any sort of camping trip, the Marmot Halo is a fantastic option. It's large enough to be comfortable for a couple of campers, whilst offering superb weather protection to keep everyone dry AND it comes with an easy-to-pitch setup. What more could you want?
Best tent on a budget
Okay, so maybe there's one aspect of the Marmot that might put you off – the price tag. We think it absolutely does enough to justify it's cost and the quality you get means that you're investing in a tent that will last for years.
But not everyone can afford that initial cost, so what's a budget alternative campers can consider?
It might not be as versatile or durable as the Marmot but the Coleman Sundome is the best budget 4 person tent for campers who can't afford to splurge on a high-quality tent. The materials in the Coleman are still good quality and the tent impressed us for its low-cost, but it isn't going to offer as much as the Marmot is capable of.
The Best 4 Person Tents Compared
Best Overall
For a cozy but liveable space perfect as a car camping tent, this is the one to beat.
Pros
Performs well in all weather
Two spacious vestibules
Mesh ceiling for starry nights
Easy setup
Cons
Too heavy for backpacking
Are you looking for the best 4 person camping tent with liveability? Here's one that's up to scratch. The two vestibules allow for separate sleeping and cooking areas.
This is a fantastic tent for extended trips in the wilderness, thanks to its spacious interior. Plus, it's perfect for disaffected tech junkies wanting to escape electricity for a while.
As it's a 3-season camping tent, it can guide you through unlimited days of escape. The heavy rain fly keeps you safe from rain, although it has vents to allow breathability.
With no fly, the tent is a great combo of polyester and mesh. It features a mesh ceiling so you can sleep under the stars when it's warm. The ceiling is clearer than the windows, which offer privacy in the camping tent. It also serves a backpacker well—perhaps the extra vestibule could work as a kitchen when it's rainy.
All in all, it's a great car camping tent for couples with minimal gear and excellent for solo backpackers. It sets up quickly, too, letting you get shelter rapidly when you need it.
Really like the four vents in the rain fly. These open up just enough to provide some ventilation higher on the tent to fight condensation.

Tons of storage with big mesh pocket in all four corners. All doors either stuff into these pocket or tie up to keep out of the way.

Reviewer
---
Best Budget Option
If you're on a budget and have a festival to attend or are new to camping, consider the Coleman Sundome to introduce you to the camping world.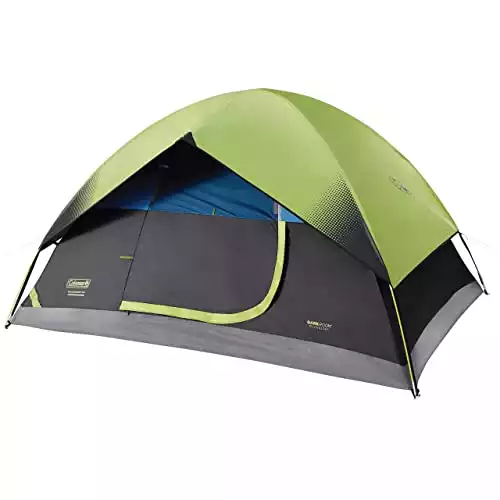 Pros
Excellent for cost-effective camping
Simple setup
Quality gear pockets
Easy access e-port
Cons
Won't withstand harsh weather
Materials aren't the most durable
If you prefer your camping tents electricity-enabled, here's one similar to the last, but smaller and with an e-port.
There's only one vestibule in the Coleman Sundome, which fits a queen air mattress with room leftover for minimal gear storage. The low storage pockets will hold your personal items, but if you don't travel light, you ought to be a car camper to use this camping tent.
It's a fantastic tent if you want a budget experience, which pairs well with the car camping element. You're just testing the waters to see if you enjoy this activity.
On the other hand, the Coleman Sundome would work well if you're not a beginner camper, but a festival goer. As the camping tent isn't too expensive, it's not a huge shame if it gets damaged by drunk partiers.
It's easy to set up, which pairs well with the festival scene. The manufacturers designed the tent with the goal of it being up in about 10 minutes.
If it rains while you're there, no worries. The Weathertec system and doubly thick rain fly should help keep you dry. Although, some customers had issues with leaks, so grab some waterproofing spray and seam seal just in case.
Plus, try to avoid the harshest of weather conditions because it'll struggle even with treatment. It's not made for wind and rain, hence the Sundome in the name.
---
For Backpackers
For backpackers in need of an ultralight tent, here's one that's the lightest of all but remains ultra-strong too.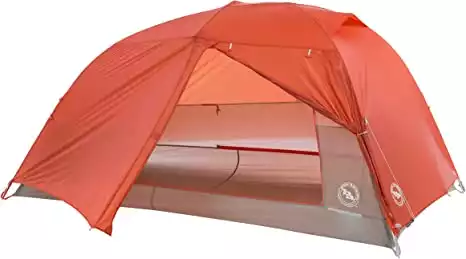 Pros
Lightweight for backpacking
Ultra durable nylon construction
Weatherproof
Two vestibules
For an ultralight tent, consider the Big Agnes. Its lightweight nature makes it a prime pick as a one person backpacking tent, especially ones who want to sleep in nature—the large mesh windows make sure of that.
It's raining? No problem, the rain fly is fit to withstand 3-seasons, so rain is no match for it.
The rain fly adds almost no weight to the tent but adds plenty of durability. Despite its lightweight construction, the nylon tent can withstand a lot.
The tent poles are equally strong, steel and pre-bent for easy assembly, which is important to the exhausted backpacker.
Once up, it has plenty of room to accommodate you and your hefty pack. It's best as a solo backpacking tent, as although it's a 4 man tent, it's a little on the small side.
However, the Big Agnes tent still has two vestibules if you need to cook inside the tent or want to store your gear separately.
---
Most Comfortable
If glamping is more your thing, consider the Eureka! as it's more like a cabin than a tent and has plenty of room to hang out day and night.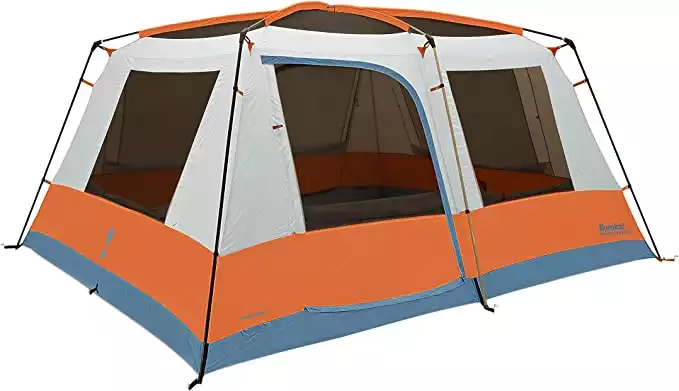 Pros
Overhead storage
Spacious inside for liveability
Good ventilation
Cons
Heavy for carrying
Waterproofing struggles in heavy rain
Is your need for a 4-person tent focused on a 4-person group rather than a 4-person capacity? Then you may like the Eureka! as it's made for 12 people, providing livability.
This would suit a pair of car camping couples well, or accommodate a group of backpackers in need of luxury after a long day.
You have two vestibules to avail of in the Eureka Copper Canyon. The vestibules are large enough to accommodate a queen air mattress each, or even some camping beds if you want true luxury.
This is truly a tent you can relax and detox in—get away from technology and the world and thrive in nature.
Further maximize the comfort and tent floor area by using the overhead storage. There are little pockets near the ceiling where you can keep personal items like books, torches and other necessities.
Once settled in and stored up, you can relax for as long as you like, in all weathers. This 3-season tent can withstand plenty of rainy and windy conditions, as the sturdy polyester rain fly keeps you dry.
When the sun is out, whip it off and let the light stream in through the large windows or open the two large doors for an extra airy feel.
Need more privacy? Shut the doors and attack the velcro window covers and lock the world out. However, keep an eye on those window covers in rain as velcro isn't as reliable as a zipper when wet.
---
Quickest Setup
For campers who want to relax upon arrival, this pop-up tent cuts setup time short and lets you get right to enjoying your trip.
Pros
Thick fabric prevents condensation
Hook for a lantern inside
Instant setup
Good waterproofing rating
Cons
Can't open windows from inside
Spacious for a pop-up tent
If you want to start your trip immediately, consider this 4 person instant cabin tent. The pre-attached poles let it bounce into shape with minimal effort, creating your livable space with an additional vestibule for whatever you need.
There's some extra storage in the form of pockets, and a hook for a lantern so you maximize your tent floor space.
You'll need as much of that space free as you can get because of the low peak height. You'll have to crawl around in this 4-person tent. On the plus side, you're close to the floor vents, which come in handy when it's raining.
In the rain, you're well protected by the thick polyester tent material and rain fly that not only keep out moisture, but prevent condensation too.
The front door's design also keeps water out of your 4-person tent, as it rolls up and down rather than opens out of the space. This ensures droplets remain outside no matter how drenched the door is.
Its windows also have this roll-up style of cover, but be warned, they only open from the outside.
---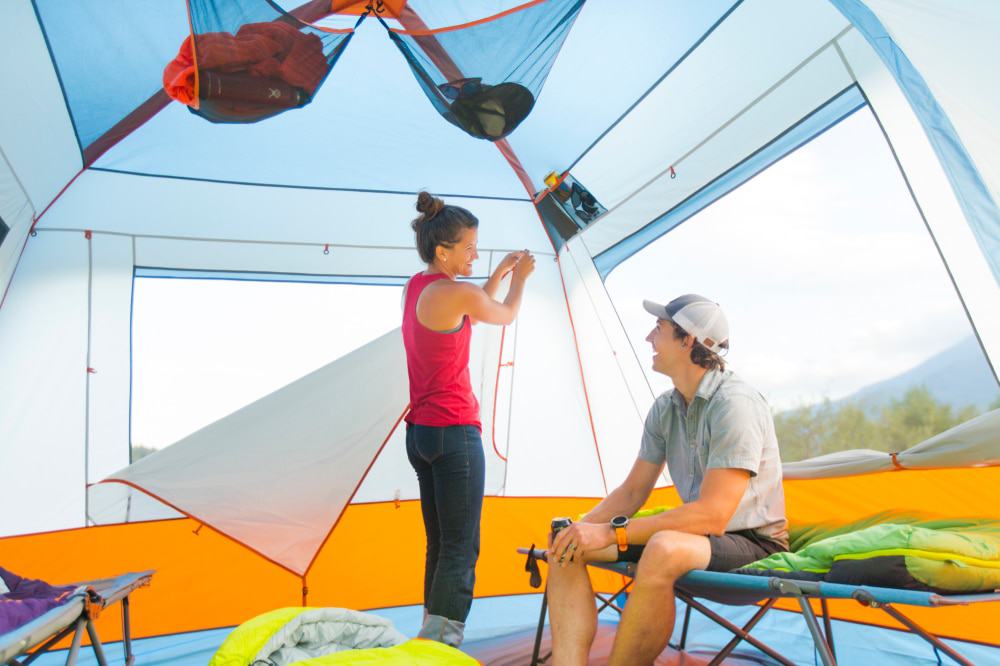 Who are these Camping tents for?
What's the top tent for four campers?
Winner: Eureka! Copper Canyon Tent
A 4P tent fits four people best if two of them are children. It'll be a squeeze to fit four adults in, so four person tents are best used by couples and duo camping buddies.
If you've got three other campers joining you on your trip, the top option to go for is the Eureka! Copper Canyon LX tent. The massive tent has enough extra living space for everyone to fit in, and the tall ceiling means it won't feel cramped inside either.
We do, however, recommend checking out our reviews of the best 5 person tents and the best 6 person tents if you want to spread out more for comfort.
the best 4-person family camping tent
Best 4 man tent for a family: Eureka! Copper Canyon Tent & Marmot Halo Tent
Both of these family tents are fantastic options for families who don't need much space in their camping tent. If you're looking for a good family tent that will give you more space, consider upgrading the capacity.
The Eureka tent is a cabin-style tent with a tall peak height which provides plenty of headroom for lanky campers, thanks to the near-vertical tent walls. No more bumping your head – the massive 7 ft tall ceiling height means unless you're taking the basketball team out to the woods, everyone should fit under this tent.
The Marmot tent also offers plenty of space and the high-quality materials will keep the tent safe and dry even in stormy weather.
which is the top tent for music festivals?
Winner: Coleman Sundome Tent
If you're heading to a festival, you want a tent that's quick and easy to pitch, low-cost in case of damage and comfortable for sleeping in the morning.
The Sundome tent ticks all the boxes for us. It's available at an affordable price and is a basic two pole dome design which even first time campers can easily work out.
The Ayamaya Pop-Up tent is also a great option. The instant pitch technology means that you can spend more time partying and less time fighting with poles.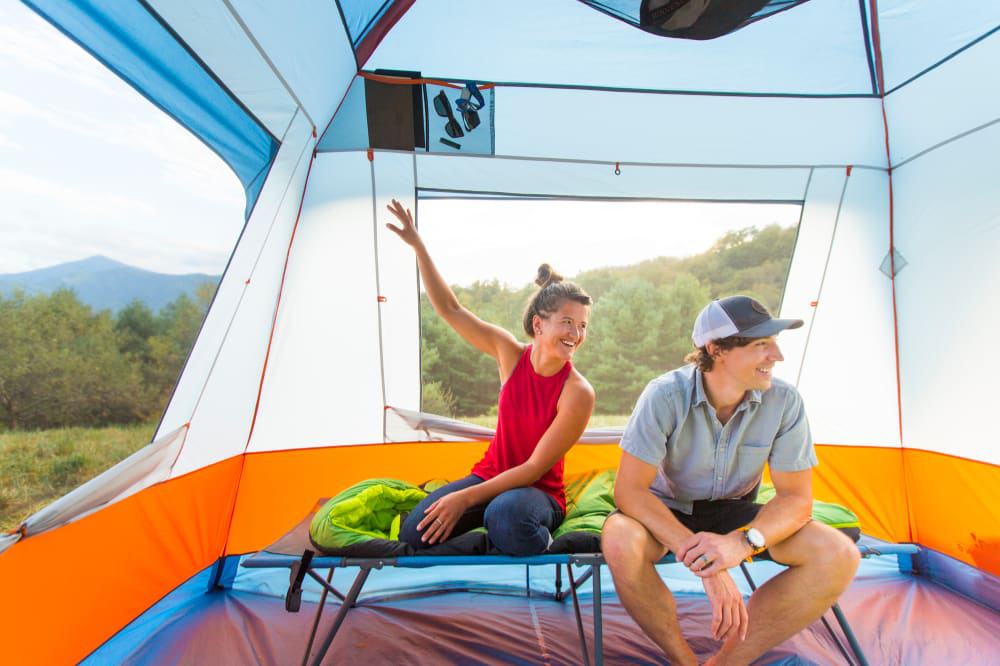 which tent is the most comfortable?
Winner: Eureka! Copper Canyon Tent
To be honest, it's not even close.
I mean, what more do you want us to say? Just look at it! If you had to spend some time inside one of these camping tents, which one are you going to choose? The dome tents that you can sit hunched over in or the HUGE cabin tent that lets you stand freely?
With a center height of seven feet, this is the best 4 person car camping tent for families and is the perfect size for relaxing trips. That's three more feet than the center height of the Big Agnes Copper Spur tent. Although, the Big tent Agnes is a backpacking tent so the short height is made up for in the lightweight nature of the tent.
Which camping tent has the best space for storage?
Winner: Eureka! Copper Canyon Tent & Ayamaya Pop-Up Tent
It's hard to beat the Eureka! Copper Canyon tent when it comes to extra space. The huge ceiling means you can store lots of gear vertically in the tent which you can't do in the dome tents.
For a couple seeking a private weekend in a slightly glamorous tent, the Eureka tent is the way to go in terms of floor space. With an average queen air mattress in place, there's around 3 feet of space beside it for you to pile up your gear.
There is also a great gear loft which is handy for storing anything you want to keep out of reach of curious little hands if you're camping with family.
We were also really impressed by the Ayamaya tent. It's rare to find a good pop-up tent with a vestibule so this instant tent offers something special when it comes to storage space.
Which 4 Person Tent is easiest to setup?
Can all these tents be set up by one person?
Winner: Ayamaya Pop Up Tent
Although many of our picks feature a simple setup, none are as easy as the Ayamaya tent. Its pop-up nature ensures a swift assembly you can't beat.
However, the Marmot Halo 4 Tent is a decent runner-up with its sleeve and clip combo. Although it's no pop-up 4-person tent, the setup couldn't be simpler for what it is.
The most difficult tent for campers to setup alone was the Eureka! Copper Canyon tent due to the 7 ft tall roof. It can make attaching the rainfly challenging.
Which type of tent is the quickest to pitch?
Winner: Ayamaya Pop Up Tent
Can you get quicker than a pop-up? Not out of the tents we reviewed!
This tent for camping is super quick to pitch. You just remove it from the carry bag and it springs into shape. Perfect for those trips where you don't want to waste a second.
The Big Agnes Copper Spur tent comes with a Fast Fly Pitch option which reduces setup time and makes it easy and quick to pitch this tent. Out of the standard tents that we reviewed, it was the quickest.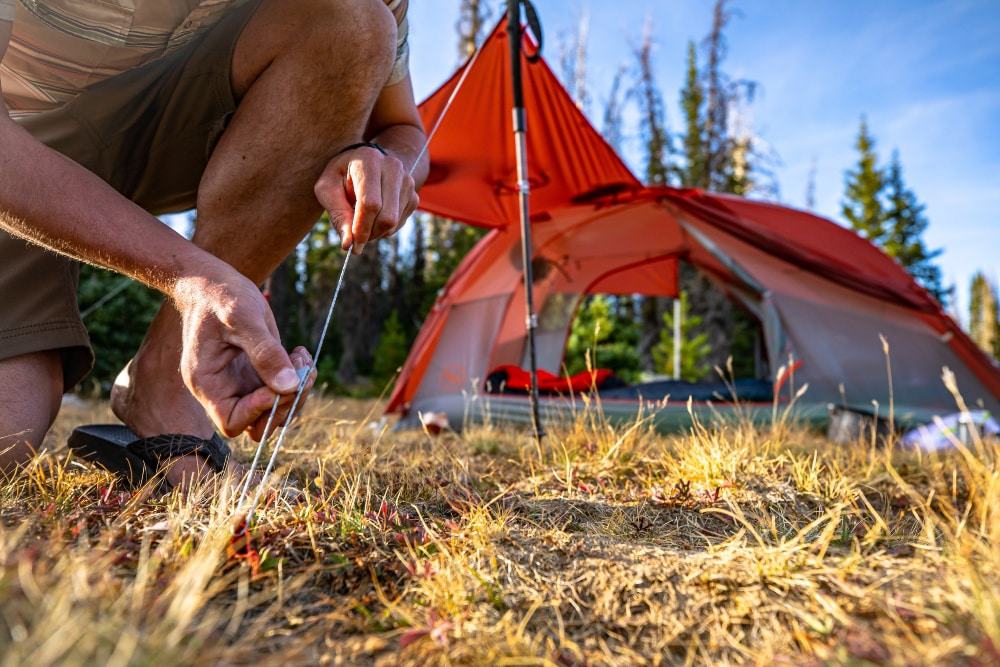 Are these tents easy to carry?
Winner: Big Agnes Copper Spur Tent
This ultralight tent is the easiest tent to carry by far and is the best 4 person backpacking tent. You can take it backpacking (as long as you have someone else to share the packed weight with). The other tents are all good for car camping but would be too heavy for backpacking trips.
When it comes to backpacking, you'll typically want to think a little smaller though. If you do, check out our review of the best two person tent.
Standing strong in bad weather: Best tent for different types of weather
Are any of these option 4-season tents? Or are they less durable tents, ideal for weekend camping trips in warmer weather?
Best 4-person tent for rain
Best 4 person waterproof tent: Marmot Halo Tent
This tent comes with a waterproof rating of 1800mm for the flysheet which will keep your tent dry in light to moderate rains, and should see it through heavy storms.
We would recommend improving the waterproofing of your tent with some waterproof spray or seam sealer when you purchase your tent.
It's the best four person tent for when the rain starts to come down though, because the two vestibules help expand the amount of covered space you have. You can use the shelter under the awning of the vestibule to cook or just hang out to give campers in the tent more space.
Is condensation in the tent an issue for cold weather camping?
Winner: Eureka! Copper Canyon Tent
The top tent for dealing with condensation was the Eureka Copper Canyon tent. The huge mesh windows allow damp, warm air to leave the tent whilst ground vents bring cool air into the tent.
The large airy space inside the tent is good for condensation as well.
Best 4 person tent for the wind
Winner: Big Agnes Copper Spur Tent & Marmot Halo Tent
When it comes to standing strong in the wind, these two camping tents were the most impressive out of all the ones we reviewed.
They both received glowing feedback from customers who found that they dealt with strong winds very well. The reflective guy ropes on the Big Agnes tent helped to stabilize the tent in wind and were easily visible at night.
For a low price camping tent that offers some weather resistance, the Coleman Sundome four person tent has been tested in simulated storm conditions. The manufacturers have tested the tent in 35mph winds and found it stayed strong.
Best 4 person tent for warm weather and summer camping
Winner: Eureka! Copper Canyon Tent
If you want a camping tent to keep you cool as the summer temperatures start to rise, the Eureka! Copper Canyon tent has lots of mesh to help keep things chilled.
The large mesh windows and mesh roof allow cool air to come into the camping tent whilst pushing warm air out, helping to cool down the tent. The mesh ceiling also gives you amazing views of the night sky.
Best 4-person tent for winter camping
These are not four season tents and we wouldn't recommend taking any of these tents out in Winter. They don't offer enough protection to ensure that you will have a safe or enjoyable trip.
If you want a tent for three-season camping in the harsher months of Fall and Spring, we'd recommend the Marmot Halo Tent. The overall weatherproofing on this camping tent impressed us the most.
Best long lasting tent – Durability
Winner: Marmot Halo 4 Tent
This is a simple but sturdy four person camping tent that should withstand many weekend camping trips. For serious campers, this is by far the most important criteria; a tent is a great investment, not a toy to use once and discard.
The Big Agnes Copper Spur HV UL Tent will also last well—it's ultralight, but ultrastrong.
Frequently Asked Questions
What Style of 4 Person Tent Is Best for camping? 
Most of the time, there's no decipherable difference between dome, cabin or other types of 4-person camping tents. It's mostly down to testing your preference. For example, cabin tents typically have a uniform ceiling height, giving you more room to sleep, store extra gear and move around.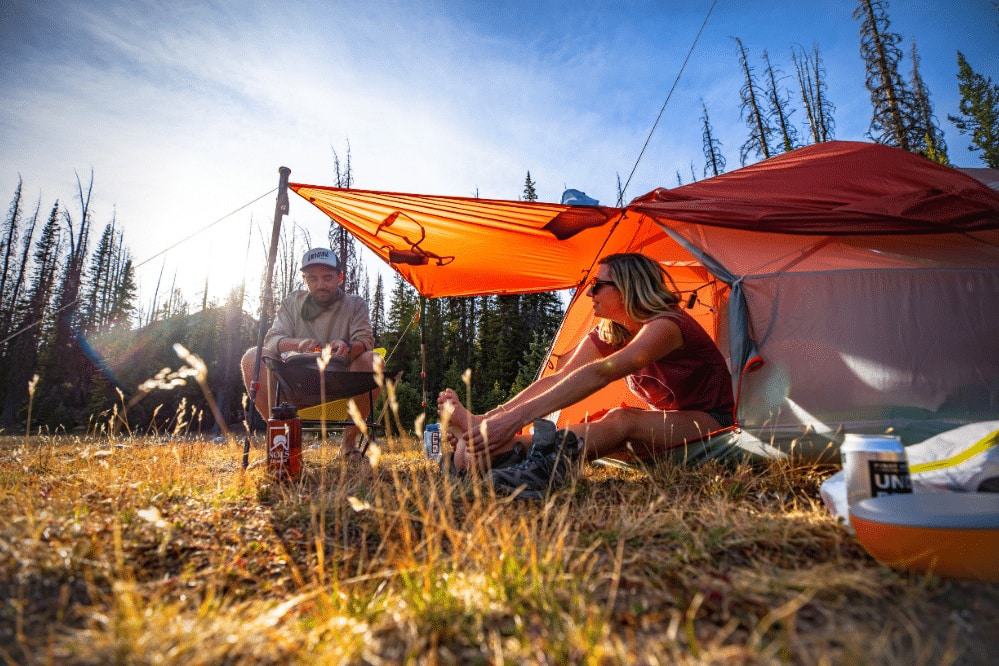 Can you fit a queen airbed in each of these tents?
These camping tents all have room for a queen airbed. The top camping tent to get if you plan to use a queen air mattress would be the Eureka! Copper Canyon tent. This tent features with ample space for the air mattress as well as storage space around it.
Do all These camping Tents have good waterproofing 
Yes, every four person camping tent here is waterproof, although Coleman tents have a tendency to leak around the seams.
To ensure your camping tent is the best it can be, consider purchasing some waterproofing spray and seam seal to treat it. Treat your camping tent before every outing, and you should have nothing to worry about, short of torrential rain.
Do You Need a Vestibule For Camping in your 4 person tent?
You don't need a vestibule, but if you've been backpacking on a dirty trail, it wouldn't hurt. Stripping off your muddy shoes and sweat-drenched clothes away from where you sleep can make you feel more comfortable and cleaner at night.
Last Look at the 4 person tent reviews
The best 4 person tent has to be the Marmot Halo 4 tent. The simple setup, paired with its durability is one that's hard to beat.
On the other hand, you may also like the Coleman Sundome 4-Person Tent as one of the best tents for its affordability and its suitability for festival camping. It's nothing too pricey, so it won't break the bank if the tent fails, or you discover you dislike camping after all.
Next up, check out our other guides: