Even though your party is small, you still want some privacy. Parents need at least 8 hours away from the kids, and sometimes a couple in the friend group wants time alone.
For that, you need the best 2 room tent. There's an array of them for you to choose from, each with its own features, and we're going to examine a few applicable to different groups today.
The best two room tents on the market are:
If you want a spacious, outdoorsy living area, consider the Coleman WeatherMaster.
Reviews of the Best 2 Room Tents
Best Screen Room
If you want a spacious, outdoorsy living area, consider the Coleman WeatherMaster.
Capacity: 6 | Weight: 32lbs | Dimensions: 11' (W) x 9' (L) x 6'8" (H) | Bag Dimensions: 41" x 10" x 10" | Doors: 1 | Power Cord Vent: Yes | Hydrostatic Head Rating: N/A | Price: $
Pros
Large screen room.
Hinge-style entry.
Useful storage pockets.
Cons
Weather handling abilities could be more masterful.
If you want a 2 room camping tent you can hang out in as well as sleep in, the Coleman WeatherMaster is an excellent choice. It has two sleeping areas, fitting three sleepers in sleeping bags or two on air beds in each.
The mesh screen room provides a comfortable area to hang out, sit and watch kids as they play outside, and more. It won't protect you in the rain, but it's decent for sunny or cooler days. On those days, it'll protect you from those pesky bugs that you're sick of eating you alive.
If you wish to leave the tent and take on the bugs or venture into the wild, the hinged door makes it easy, especially if you're carrying a child or animal.
The door also allows kids to easily package in and out without fumbling with zippers. That's also a great feature for friend groups who've had a few beers and can't coordinate their hands with a zipper.
Once night falls, you can collapse into your sleeping areas, separated by a screen. It's easily removed if a child has a nightmare and wants to sleep in one room. With it up, the screen provides a nice feeling of privacy, for parents away from kids for the night or couples in a friend group sleeping separately.
However, if it rains at night, you'll want to add an extra full coverage tarp on top of the rainfly. Waterproofing spray and seam seal will be your best friend with this tent, too.
Without weather protection treatment, the tent has some minor leakage, but once that's dealt with, the "WeatherMaster" in its name rings true.
---
Best for Small Families
If you have young kids who like to get rough, consider the NTK for its large vestibule.
Capacity: 6 | Weight: 14.73lbs | Dimensions: 12.8' (W) x 8' (L) x 4'7" (H) | Bag Dimensions: Unspecified | Doors: 2 | Power Cord Vent: No | Hydrostatic Head Rating: 2500mm | Price: $
Pros
Front vestibule.
Double tent doors.
Affordable tent.
Cons
Tent gets stuffy.
The tent sleeping area could be larger.
The NTK tent is an excellent choice for small families with kids who like to get dirty. Like the pick above, this 2 room camping tent has a tent screen room although it's mainly for use as a vestibule—a safe place for mud-covered kids to change into clean clothes without dirtying the tent sleeping area.
Three of the area's walls are removable, so you can also turn it into an awning if you'd like to get some sun and don't mind bugs.
NTK's vestibule also has a floor, making it a great space for kids to sit and do activities like coloring and playing with their toys.
On colder days, shut the space on all sides and view the great outdoors through the tent windows. When you retire to the sleeping area by night, you can store your gear in the vestibule.
The actual 6-person tent sleeping space doesn't have two rooms, so you can repurpose the expansive vestibule for that if you wish. The sleeping area is large enough to sleep four, but you'll need to use sleeping bags instead of air mattresses.
Plus, the more people you have in the sleeping space, the hotter it gets. The tent ventilation isn't great, but it's more bearable when you open the front and side tent doors.
---
Best for Big Families
For an easy setup and a large living area, the Vango Airbeam is perfect.
Capacity: 5 | Weight: 40.9lbs | Dimensions: 16' (W) x 9' (L) x 6'8 (H) | Bag Dimensions: 27.5" x 14.17" x 13.77" | Doors: 1 | Power Cord Vent: Yes | Hydrostatic Head Rating: 4000mm | Price: $$
Pros
Easy assembly.
Holds heat well.
Dark sleeping and bright living area.
Did you like the tent above but your family is larger? This tent has a spacious living area with large, clear windows that can work as a second tent bedroom.
There are two dark room sleeping areas as is—one sleeping three people and the other two, all in sleeping bags.
It's a great family camping tent for a group that needs lots of sleeping space, although you could easily split the living area into a half bedroom, half living area. The sewn-in groundsheet and well-sealed walls make it work for either.
Vango Airbeam's living area is also great to hang out on rainy days but still has an excellent view of the outdoors.
Before getting inside the tent to experience this luxury, the spacious camping tent with an excellent peak height (great for tall people) has the added bonus of being pitch-free. Instead, it blows up. There are no tricky tent poles to deal with, and as it's a blow-up tent, the fabric is extra durable to prevent mishaps. 
Customers found no flaws in the 5-person tent, inside or out, but did complain that the entrance zip snagged almost every time they used it. They also noted that rain could pool on the roof. Thankfully it doesn't impact the tent's structure—but be sure to sweep it off when the rain stops.
---
Best for Friends
Do you need a vast tent to fit lots of people? The CORE has an excellent high capacity.
Capacity: 9 | Weight: 27.82lbs | Dimensions: 14' (W) x 9' (L) x 6'5" (H) | Bag Dimensions: 48" x 11.5" x 11.5" | Doors: 2 | Power Cord Vent: Yes | Hydrostatic Head Rating: 600mm | Price: $$
Pros
Fantastic living area.
Tent ventilated well.
High capacity instant tent.
Cons
Tends to leak.
Bedroom and living room don't have separate doors.
Families can make do with the smaller tents above—what about friends? You're not as close and need more tent space to sprawl out, or bring partners into the mix. This spacious, great peak height 9 person tent does the job.
The two rooms can work as separate bedrooms, although one is marketed as more of a living room. The large mesh doors and enormous windows let light in and allow liveability.
However, the tent's 9 person capacity includes that living area. Perhaps it could work as a living and sleeping space? If there are fewer people on your trip, both tent spaces fit an air mattress for a more glamorous trip.
The instant cabin tent is easy to set up—with CORE claiming it only takes 60 seconds. For those friend and family camping trips with a long drive to your destination, nothing is better than an instant cabin tent that's easy to set up within minutes of arriving.
Your trip gets slightly less glam when you realize the tent's seams can be a little leaky, a common problem with the CORE range. Some seam seal fixes that issue, and the high-quality steel poles hold up against all other weather issues.
---
Best Alternative Design
Instead of a two room tent, consider a tent you can attach smaller tents to.
Capacity: 6 | Weight: 33lbs | Dimensions: 16' (W) x 12' (L) x 7.5' (H) | Bag Dimensions: 33" x 19" x 18" | Doors: 1 | Power Cord Vent: No | Hydrostatic Head Rating: 5000mm | Price: $$
Pros
Four season two room tent.
Space to commune in the 2 room tent build.
You can attach additional tents.
This large camping tent with a phenomenal tent livability and peak height has areas for sleep as well as hanging out. It's far from a tent for privacy upon purchase—six people fit side by side in a large sleeping area. The vestibule area serves as a hangout space; it's large enough to be considered a second room if necessary.
You can utilize this excellent 6-person tent in all weather conditions, including snow.
The 2 room tent aspect comes in a little differently, though. This Crua Core attaches to other, smaller tents in the range, adding additional sleeping or living space to your heart's content. The tent also attaches to your car to expand your space that way.
Regardless of what 2 room tent you purchase and how you make the connections, you're getting a tough tent you can sleep comfortably in. The dark tent interior is a plus when it comes to slumber—but the tent's lack of windows removes some of the liveability inside.
Frequently Asked Questions
What Are the Advantages of Two-Room Tents?
The biggest advantage of 2 room tents is privacy. It lets trip participants sleep separately and talk amongst themselves while getting a break from the larger group.
If the group is smaller, a two-room tent provides separate sleeping and living areas, great for longer trips and glamping.
Lastly, 2 room tents are fantastic money savers. Picture this: two couples going on a camping trip together. Instead of both spending time shopping for two two-person tents for camping, instead, they can pool their money and purchase a two-room tent.
Shared ownership lets the couples take the tent out individually for more glamorous trips, but they can also go together, bond with each other and have a good group time.
Removable or Fixed Dividers: Which Is Better?
Choosing between removable and fixed room dividers is a matter of preference.
Fixed dividers make the tent feel more like a cabin tent and can create a sense of enhanced privacy. However, they also make the tent trickier to set up as they stop the tent from being a simple and easy shape.
Removable divers don't have this issue, and they have several other advantages. One is opening up the tent and making it feel spacious, which is also great for inviting other people to spend time in your tent by day. It creates a communal area to hang out and have fun.
Families can utilize removable dividers for another purpose too: night terrors. Kids get scared, and the younger they are the more likely they'll have night terrors about bears or haunted woods or something.
Roll away the removable tent divider and you're all in one room, giving the child a sense of comfort.
How to Connect Room Dividers
Connecting room dividers depends on the type of tent you have. Sometimes they'll zip into the ceiling or walls, other times they're pre-attached.
Read the tent instructions that came with the tent carefully, and search for zippers, velcro and buttons around the inner tent walls if the instructions don't mention anything.
How Much Privacy Can You Expect in a Two-Room Tent?
You can't expect a ton of privacy from a 2 room tent. Dividers are thin, so you'll still hear each other when speaking at full volume unless your tent is extremely expansive.
Still, a room divider can provide mild comfort to privacy-loving campers.
You don't have to see your friends snoring away. You can whisper to your partner so your friends or kids can't hear, and you can cuddle without prying eyes and teasing pals.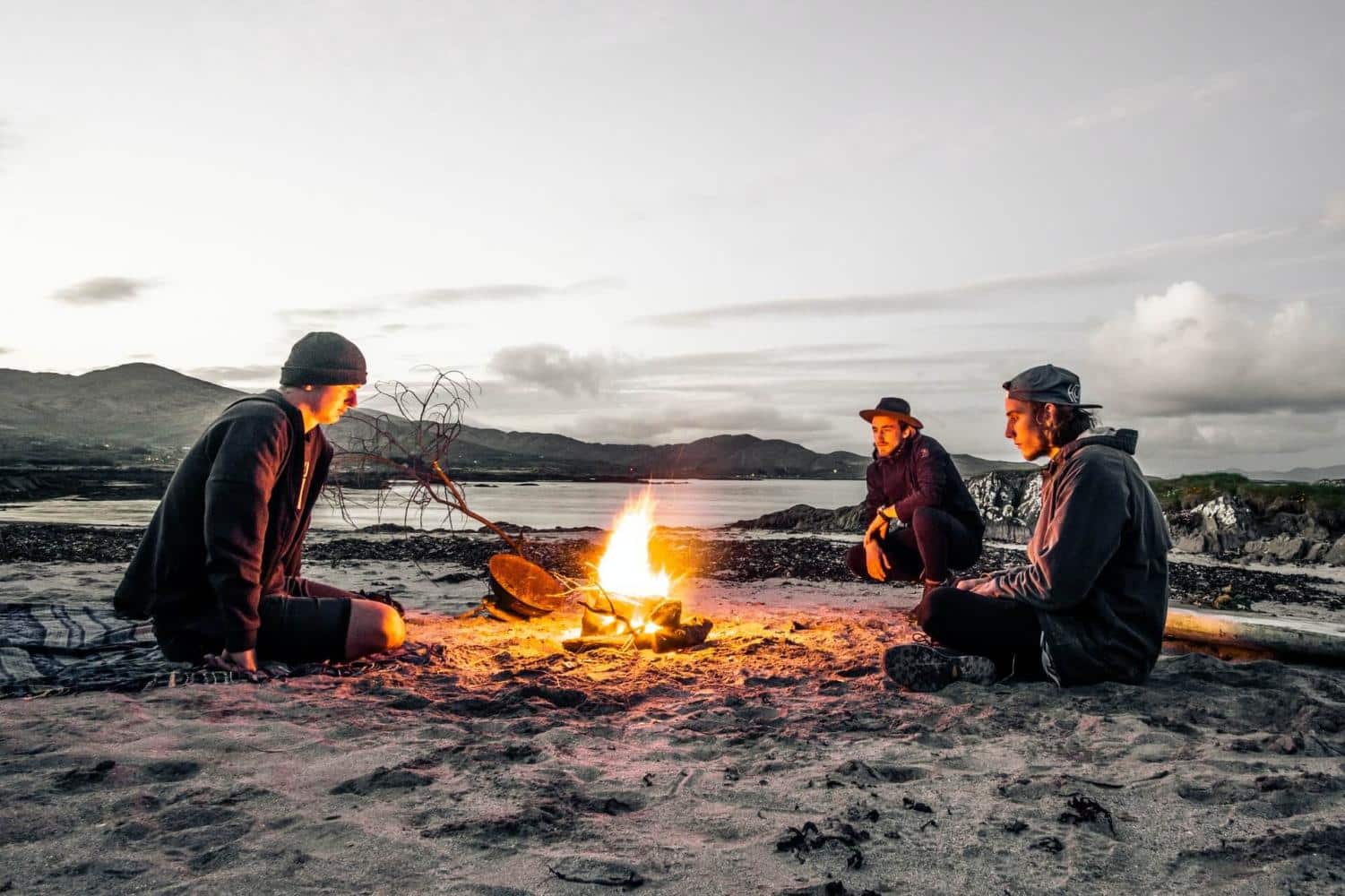 How We Decided
Two room tents have specific purposes depending on who's sleeping in them. While the criteria below is similar to most camping tents we review, they hold a different meaning for this camping tent type.
How Many People Fit?
Winner: Crua Core 6-Person Tent
The Crua Core tent has to win out here. The sleeping space holds six as it is. Add the ability to attach additional tents, and there's no denying this two room tent wins capacity-wise, no arguments.
If you're wanting something bigger, you can check out our roundup of the best 3 person tents.
How Does It Hold Up?
Winner: Crua Core 6-Person Tent
You don't want your trip to be a one-off. It would be nice to go out again next year, or perhaps multiple times annually. Can the tent survive the test of time, and weather, come to think of it?
As a four season tent, the Crua Core says yes to the latter. It's also generally regarded as tough and durable, so the former is covered, too.
What Bonus Features Do You Get?
Winner: Coleman WeatherMaster 6-Person Tent
We're excluding the Crua Core from this question as adding additional tents is a whole other level of bonus features.
Instead, we look at the humble screen room on the Coleman Weathermaster. Unlike other tents here, the screen room is a third room to the sleeping area's two.
A screen room is an excellent asset in a tent—especially one with multiple rooms. The more rooms you have, the more the tent can feel like a home away from home. The screen room only adds to that.
Kick back and have some beers, sit in safety and watch the kids make a mess, turn it into a sleeping area or throw a tarp over it in the rain and hang out. There are numerous possibilities, making it an incredible bonus feature to have.
We have also ranked the weathermaster tent as one of the best large tents going.
How Much Privacy Do You Get?
Winner: Vango Airbeam Odyssey 500 Tent
You can't expect a ton of privacy from a 2 room tent, and once again we're not including the Crua Core here.
Short of connecting other tents to yours, the Vango offers the most privacy in its two rooms. The room divider is quite thick, providing a feeling of separation that the other tents can't match.
Is Setup Difficult?
Winner: Vango Airbeam Odyssey 500 Tent
Nobody likes a difficult setup, no matter how avid a camper or energetic the person.
For an easy setup, you can't get anything easier than the Vango Airbeam. Granted it's not the fastest in the world, but it certainly takes the least effort on your part. Plug in the pump, stand back and relax for a moment.
The Best 2 Room Tent
The best 2 room tent has to be the Coleman WeatherMaster 6-Person Tent as it doesn't have two rooms, it has three!
Yes, one of those rooms is a screen room, but it has many, many uses alongside the two sleeping areas which fit a queen air mattress each.
It's a great 2 room tent for liveability, and it's highly versatile. Plus, it's a total bargain. Sure, it has its flaws when it comes to mastering weather, but they're easily fixed.