Welcome to our roundup of the best 2 person tents on the market just now!
For some trips you only need a small shelter to keep yourself and maybe a partner safe and dry. 2 peron tents are ideal for backpacking trips because they are lightweight but will leave you room to take your gear inside the tent.
We've done all sorts of camping and backpacking so we know what it takes to make a tent a success. We've done all the hard work and found the best two-person tent models on the market today.
Whether you're looking for a tent for solo backpacking, car camping with friends or a festival, we've got the right pick for you.
So lets jump in and find which tent is the one for you!
Quick Recommendation
Don't have time to stick around? Don't worry, we've got you covered. Here's our quick summary.
Our favorite tent we looked at for this review was the Big Agnes Copper Spur. It's an ultralight tent which comes with two vestibules to give you lots of space. You can use that extra space for cooking or gear storage when backpacking.
And there is ample living space so it's comfortable enough that you can take it car camping and not feel cramped for the whole weekend.
What about campers looking to save some cash?
If you don't fancy dropping hundreds of dollars on a new tent as well as extra gear for camping, we really liked the ALPS Mountaineering Lynx Tent. It's low-cost but not heavy or bulky, making it a solid choice for campers first tent. Whilst it doesn't shine at anything in particular, it's a great all-rounder that gives you the chance for versatile camping.
Alternatively, the Coleman Sundome is also a great budget option for car camping.
Reviews of the best 2 person tent models
Best Car Camping Tent
Weight: 7.3lbs | Dimensions: 4'11" (W) x 6'10" (L) x 4' (H) | Carry Bag Dimensions: 2' x 5.5″ | Doors: 1 | E-port: Yes | Hydrostatic Head Rating: N/A | Price: $
Pros
Available at an affordable price

Simple setup process for beginners

E-port to allow your cables inside
Ground vents and large windows for ventilation
Cons
Can get crammed with two campers
Too heavy for recreational backpackers
This little tent is an excellent low-cost tent, especially for first-time campers. Despite being affordable, it comes with some quality features such as floor vents and an electric port for your cables.
It's a simple dome-style tent, so the setup is easy and shouldn't take much more than a couple of minutes. It has large windows and doors that let in air, so you'll stay cool through the night.
With a packed weight of 7.3 pounds, it's quite heavy, so it likely won't be considered a serious option for backpacking adventures. For car camping, it would be a fine choice, especially if you're a wilderness newbie looking to keep costs low.
The size is another possible negative of this tent. It's enough for camping on your own, but for two, it can get quite cramped. If you pick this tent, make sure you share it with someone you're comfortable with on shorter trips. 
---
Best Festival Tent
Coleman Pop-Up 2-Person Tent
This pop-up tent offers a truly instant setup, making it an ideal option for festivals. It has enough space for two, but it's an awkward shape for backpacking.
Weight: 6.41lbs | Dimensions: 4'5" (W) x 7'6" (L) x 2'11" (H) | Carry Bag Dimensions: 34.75" x 1.75" | Doors: 1 | E-port: No | Hydrostatic Head Rating: N/A | Price: $
Pros
Instant setup makes camping relaxing
Mesh roof for ventilation
Packs flat, ideal to fit in your car.
Cons
The zipper is hard to close
Awkward shape for backpacking
Made with thinner materials than the Quechua
Busy people and festival goers will love this 2-person pop-up tent that eliminates the problem of setup, making it truly effortless. Just take the tent out of the bag and it pops open, and you'll only need to secure it to the ground.
The tent also features a small, multi-position rain fly to keep you dry, but you can remove it to enjoy the mesh roof and windows. If you're in the wilderness, you'll be able to watch the stars from inside the tent.
Keep in mind that this tent is on the smaller side, with enough room for one person with gear. If there are two people with gear, you'll be really tight, but you might be able to manage a night or two in this tent.
There's only enough livable space in this tent for short trips like weekend camping trips.
One thing that bothers some customers about this tent is that the main door zipper can get stiff. It can be frustrating to open it and try not to break the tent fabric in the process, especially when you've been partying all day.
Note that this tent is not really a backpacking tent, not only because of the weight. The problem is that the tent packs into an uncomfortably-shaped, round bag, which won't fit comfortably inside a backpack. It does pack flat, which makes it easy to slip into your car.
---
Best Budget All-Rounder
Bessport 2 Person Backpacking Tent
This Bessport tent is a fairly light option for a budget tent, ideal for a beginner backpacker. It has two doors and vestibules, and plenty of storage space inside.
Weight: 5.2lbs | Dimensions: 4' (W) x 7'2" (L) x 3'7" (H) | Carry Bag Dimensions: 15" x 5" | Doors: 2 | E-port: No | Hydrostatic Head Rating: 3000mm | Price: $
Pros
Excellent cheap tent
Two doors and vestibule space
Relatively low weight for casual backpackers
Many storage pockets inside
Wide range of colors makes the tent stand out
Cons
Stitching is not top-quality
Low-quality zippers
Unreliable in stormy weather
This two-person tent from Bessport is a good beginner's backpacking option. It's not as lightweight as some of the high-end models, but it's much cheaper. For this investment, it's an excellent tent that adapts from backpacking to car camping. Plus it comes in a wide range of colors, making it easier to find one you'll love.
The tent body has two doors and two vestibules, which gives you some extra storage space for your outdoor gear. It's also easier to enter and exit the tent, because you won't have to crawl over the other person when they're asleep.
If you take off the rain fly, you can enjoy the tent's mesh roof and windows that let in lots of air. On the inner tent, there are pockets in all the corners and the roof for your personal items. There's also a hook to hang a flashlight in the center.
It's a dome tent that's easy to set up, and you should be able to do it on your own. However, the tent is large enough to fit two people with gear if you have company. And if you divide the tent poles and fabric into two backpacks, the weight is more comfortable for backpacking.
This kind of budget tent will likely not last forever, and some customers comment on the stitching coming loose at the seams. This can make the tent less waterproof, so make sure to seal your seams if you're expecting heavy rainfall.
There are some weather protection features like the reflective guy lines to provide wind resistance but overall the weatherproofing of this tent isn't very reliable.
---
Best Lightweight Option
Weight: 2.7lbs | Dimensions: 4'4" (W) x 7'4" (L) x 3'4" (H) | Carry Bag Dimensions: 19.5" x 6" | Doors: 2 | E-port: Yes | Hydrostatic Head Rating: N/A | Price: $$$
Pros
Ultralight backpacking tent with excellent minimum weight
Excellent weather-resistance
Two large doors for ventilation and easy access
Awning-type vestibules
Handy media pockets with cable ports
Cons
Expensive tent might put off newbies
If you're looking for a lightweight backpacking tent and you don't have an issue with spending a little extra, this one is a great pick. The Big Agnes Copper Spur HV UL has an ultralight construction that weighs only 2.7 pounds. It also packs into a small size, so it's an easy tent to carry in your backpack.
The Big Agnes Copper Spur features two large doors that allow you to ventilate it well. And if you happen to get in some rough weather, the tent fabric is good quality and likely to keep you dry all night.
The Big Agnes Copper Spur HV UL also comes with two vestibules, making it a spacious tent to live in, on top of being easy to carry. There's also the ability to turn the tent door into an awning to provide a bigger sheltered porch area for cooking.
For taller campers, the Big Agnes Copper Spur HV UL2 has a lot of room to fit inside, even with your gear. The design is a little longer than most two-person tents, and there are lots of interior pockets and little loops for hanging a light. You can also store some of your gear outside under the vestibule area to save the tent floor space.
The awesome media pockets and electric cord access port make this ultralight tent great for car camping trips as well. The versatility of the Big Agnes Copper Spur is one of the reasons it was our favorite tent.
---
Best Small Pack Size
MSR Hubba Hubba NX 2-Person Tent
This tent packs down to 18" x 6", one of the smallest pack sizes available. It's lightweight for a backpacking tent and big enough for two people with gear.
Weight: 3.5lbs | Dimensions: 4'2 (W) x 7' (L) x 3'3" (H) | Carry Bag Dimensions: 18" x 6" | Doors: 2 | E-port: No | Hydrostatic Head Rating: 3000mm | Price: $$$
Pros
Relatively lightweight for casual backpackers
Small packed size
Spacious tent inside
Two doors and vestibules
Good ventilation even with the rain fly
Cons
Pricey option
Some experiences with leakage at the seams
Issues reported by users in the wind
The Hubba Hubba is another lightweight tent that's ideal as a backpacking tent. It's not ultralight like the Big Agnes Copper Spur HV UL2, but it packs down to 18 by 6 inches—one of the smallest pack sizes available.
The setup of many of the best backpacking tents is not as challenging as that of a dome tent the first time you're doing it. However, when you've done it a couple of times, it's easy to do, even on your own.
Overall, the tent fabric and poles are high-quality and endure the elements well. Some campers who bought this tent do comment on leakage at the seams, but it's not a common experience. The tent poles also always bend slightly after the first uses, but it doesn't impact the durability.
Overall, the MSR Hubba Hubba NX-2 feels spacious inside. It has large vestibules that help you store your cooking gear, shoes and other bigger items so they won't take up space inside the roomy tent. There are also vents in the rain fly to let some air inside the tent and prevent condensation or humidity on the walls.
---
Best Value for Money
ALPS Mountaineering Lynx 2-Person Tent
This tent is another low-cost option that's light enough to take camping, made with high-quality materials. It would be a good car camping tent for campers who aren't sure if backpacking is for them yet.
Weight: 5.75lbs | Dimensions: 5' (W) x 7'6" (L) x 3'10" (H) | Carry Bag Dimensions: 20" x 6" | Doors: 2 | E-port: No | Hydrostatic Head Rating: N/A | Price: $$
Pros
Quality materials, but affordable
Easy setup with the simplified pole structure
Relatively small to use as a light backpacking tent
Good ventilation for warmer weather
Lots of storage space
Cons
Thin fabric may rip
Only suitable for shorter trips if using it for backpacking
This low-cost choice for couples is made with durable materials that make it an interesting option for newbie campers. If you're not sure if backpacking is for you, you can pick a tent like this one without making a big commitment. 
It's lightweight enough for casual backpackers, especially if you divide it into two backpacks, but it would be a good tent for car camping as well. 
The inner tent attaches to the poles with small hooks. This means you won't need to pass the tent poles through sleeves, which can be annoying and time-consuming which improves the ease of setup. Just keep in mind that the lightweight fabric is thin, so you can easily rip it when setting up the tent.
On the inside, the ALPS Mountaineering Lynx has large mesh panels on the walls and roof. This way, you get in a lot of air or enjoy some stargazing when you're experiencing good weather.
If you're camping with two people, both sides of this tent have a door and a vestibule to give you some more comfort and livable space. It also has storage pockets on the inside walls and a gear loft on the roof for your smaller items.
---
Easiest Tent
Quechua Pop Up Tent (2/3 Person)
A pop-up tent with fully dark interiors to let you sleep comfortably through the night or even during the day. It's also protective against the elements, especially compared to what you'd usually expect from a pop-up tent.
Weight: 7.25lbs | Dimensions: 4'1" (W) x 6'10" (L) x 3'2" (H) | Carry Bag Dimensions: 25.6" x 3.5" | Doors: 1 | E-port: No | Hydrostatic Head Rating: 200mm | Price: $$
Pros
Instant setup with pop-up design
Dark interiors for a better sleep
Excellent waterproofing for a pop-up
Quality tent material tested in 30mph winds
Great shelter for shorter trips
Cons
Small size makes it a poor choice for couples
Awkward shaped carry bag and packed size for backpacking
This 2-man Quechua makes setup a breeze with its 2-second pop-up assembly. It's also good quality for a relatively low investment and has lots of smart features that make long trips comfortable.
The Fresh and Black feature means that the interior of this popular tent is completely dark, so it lets you sleep longer in the mornings. This is especially useful for weekend camping trips with a group of friends or going to a festival, plus it also keeps your tent cooler with enhanced air flow.
This tent also offers more protection from the elements than you'd usually expect from a pop-up. It has an inner lining, so the outer layer acts as a rain fly to keep you dry from condensation and rain. The tent has been laboratory-tested to resist high winds of up to 30 mph and can handle tropical rain.
As for the size, this one is a little snug for two people to sleep in, especially if you have gear. It also packs into an awkwardly-shaped, round bag, so we don't recommend this tent for backpackers and hikers. It's great for a couple's quick getaway or a festival on your own or with someone you know well.
---
Best Weatherproof Tent
Marmot Thor 2 Person Backpacking Tent
The Marmot tent is designed to withstand winter weather and keeps campers protected from wind, rain and snow. It's pricey, but customers love the indestructible design and roomy interiors, so it's the best two-person winter tent in our reviews.
Weight: 10.5lbs | Dimensions: 5'9" (W) x 7'3" (L) x 3'8" (H) | Carry Bag Dimensions: 1'8" x 1' | Doors: 2 | E-port: No | Hydrostatic Head Rating: 1800mm | Price: $$$
Pros
Nearly indestructible design.
Amazing waterproofing.
4-season tent.
Large doors and vestibules.
Spacious and tall interiors.
If you're camping through rough weather in the winter or expect some spring and small storms to surprise you, the 4-season Marmot Thor is a great pick. It's a higher-end product with a price tag to match, but it's the most likely to keep you dry at night.
This two-person tent is made for mountain expeditions, so it can handle strong winds and snow. According to the manufacturer, the design is indestructible. However, it's also the heaviest in our reviews, at 10.5 pounds, so keep that in mind if you're preparing for a backpacking trip.
The size provides plenty of room for two, and you've got two large, D-shaped doors at both ends. Getting inside is comfortable, and the flys have extensions designed to prevent water from pooling. This would be a quality tent for couples who want to go camping as much as possible.
You've also got two vestibules for gear storage, one of them poled and large. Thanks to the smart design, the walls are nearly vertical, and the center height is quite tall. These features keep your living space big enough for two people to camp comfortably, rain or shine.
---
Who are these tents for?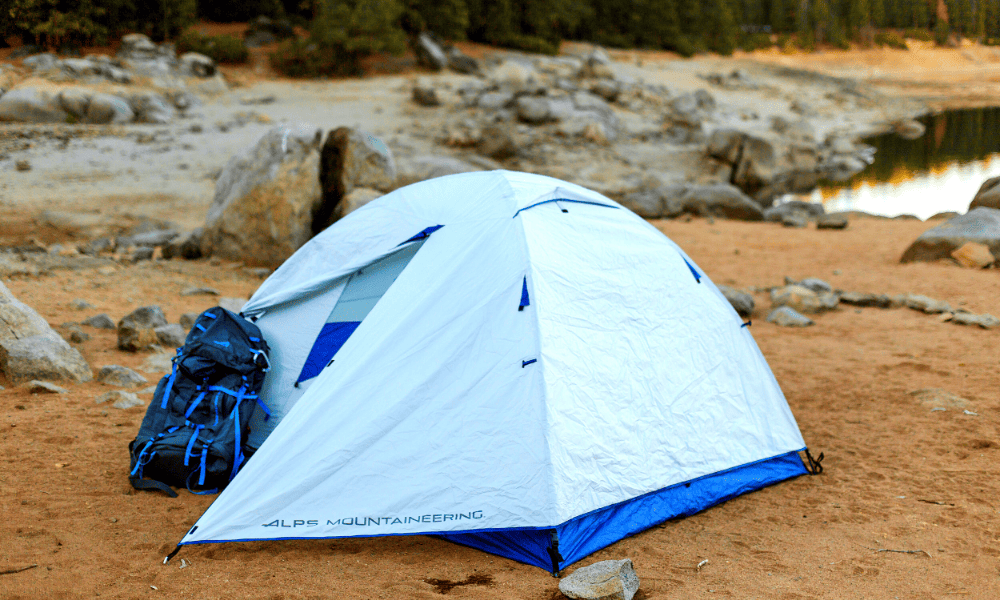 Which tent is best for 2 people?
Winner: Big Agnes Copper Spur
If you need to fit two campers in a two person tent, this is the one to go for. The floor provides about 20 feet of space for two people to sleep in the tent. The two vestibules mean you will also have space for camping gear.
The doors on each side also mean that if you are sharing the tent, you don't have to clamber over your partner to get out the door.
However, if you are looking for a tent for two people and you aren't going backpacking (so weight isn't an issue), we would recommend upgrading to a larger sized tent for a more comfortable experience.
Which is the best 2 person tent for festivals?
Winner: Quechua 2 Second 2-Person Tent
There was one clear winner when it comes to festivals for us.
The instant pitch design of the pop-up tent makes it a great option for a fast setup. Don't waste time fighting with poles – get the tent up and go dance! That's why you came to the music festival, right? Both the Quechua and the Coleman Pop-Up are excellent choices for festival camping.
The fresh and black technology will keep the inside of this tent cool and well ventilated as well. That's great for the mornings after a long night of partying.
Which tent is best for backpacking?
Winner: Big Agnes Copper Spur
How can it not be the Big Agnes? This tent is ultralight with a minimum weight of 2lb and 11ox or about 1.22kg. It also comes with two spacious vestibules meaning it's comfortable to carry and comfortable to spend time inside.
You can't always get both things in a backpacking tent.
Although this tent comes with a higher price tag, we think the cost is justified. It's a reasonable price to pay for such a solid tent.
The MSR Hubba Hubba is an excellent choice for backpacking as well. The minimum weight is slightly higher though, at around 3lbs and 7oz or 1.54kg. The livable space inside the Hubba Hubba is impressive, but the Copper Spur is still superior.
Which tent is the most comfortable?
Winner: Marmot Thor 2-Person Tent
With the tallest roof height and the largest floor space, this tent is the most comfortable for spending time inside. If the weather turns, being inside your Marmot is a good place to be. It's weatherproof enough to keep you dry and is large enough that you won't feel cramped.
Which tent has the best storage options?
Winner: Marmot Thor 2-Person Tent
The interior space is important if you're looking to use your 2-person tent for two people. Some backpacking tents are really tight on space, especially if you're going backpacking and don't have a car for gear storage.
For these situations, we'd go for camping tents with a large vestibule or two to keep your gear. This way, it won't occupy your sleeping space. The Marmot Thor is our top pick for size and the best backpacking tent in our review.
Another good option is a long tent to store your gear at your feet, like the Big Agnes Copper Spur that's over 7 feet long.
Still, if you're using a two-person tent with two people, it's best to do it with someone you know well and trust. You'll inevitably be close to each other in a tent this size, so you'll need to make sure you're comfortable in close quarters.
Which 2 person tent is easiest to set up?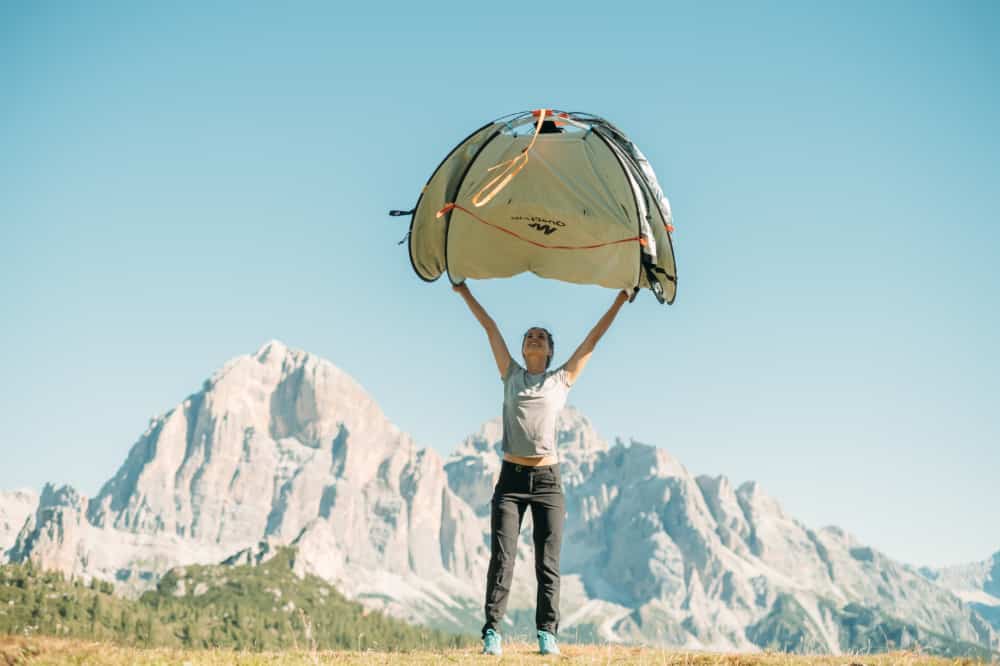 Can it be done by one person?
Winner: Quechua 2 Second 2-Person Tent
With the pop-up design, all you have to do is open the carry bag and let this tent fly. It'll spring into shape and voila! You're about 90% of the way done. Just stake down the tent to make sure it's stable in the wind and you're good to go.
The MSR Hubba Hubba comes with the Easton Syclone Pole system. Just one pole made from composite material provides the structure for this tent. That means it can be difficult to get setup at first, but customers say once you're familiar with the process it's quick and easy.
Which tent is the quickest to pitch?
Winner: Quechua 2 Second 2-Person Tent
The best 2-person tents are pretty easy to set up in general because they're small enough to handle on your own. However, there are a couple of clear winners in this category, the pop-up tents from Coleman and Quechua that take just seconds to assemble.
If you're going to a festival or you take lots of short, one-night or weekend escapades to the wilderness, these 2P tents are the right choice. Just take the tent out of the bag, stake it to the ground, kick back and relax.
The Big Agnes Copper Spur comes with a Fast Fly Setup which makes it a quick tent to pitch for backpacking trips as well. And their TipLok Tent Buckle system simplifies setup by combining three functions into one mechanism.
The TipLok Tent Buckle streamlines setup by combining the secure pole-tip capture, rain fly attachment and stake-out loop into one. It makes setup quicker and helps strengthen the structure of the tent.
Are these tents easy to carry?
Winner: Big Agnes Copper Spur HV
When you're car camping, the size and weight of the tent don't matter as much. But if you're going backpacking, you'll need to find backpacking tents that are small enough to carry with you.
The best two-person backpacking tents are ultralight models like the Big Agnes Copper Spur HV, with a packed weight of less than 3 pounds. It won't tire you even if you're walking for longer stretches every day.
Backpacking tents that pack into a small space are also a great option. The MSR Hubba Hubba NX-2 is one example that packs into a really small carry bag and is easy to fit in most backpacks.
If you need to save space in your car, pop-up tents that pack into a thin, round shape are a good option. You can slip them inside the trunk easily, but they're an uncomfortable shape to use as a backpacking tent.
How do these tents hold up in bad weather?
Which of these tents will stand strong in intense weather and which ones are suited to weekend camping trips in warmer weather?
Keeping you dry in rain and intense weather
Winner: Marmot Thor 2-Person Tent
This tent comes with some SERIOUS waterproofing features to keep you dry even through storms. This tent might have one of the strongest, most waterproof tent floors we've seen. It has a hydrostatic rating of 10,000mm so you don't need to worry about water getting underneath your tent!
Some of the tents like the Coleman Sundome that have a mesh design for improved ventilation struggle to keep the rain out in stormy conditions.
Stopping Condensation
Winner: Quechua 2-Second 2-Person Tent
With the Fresh and Black techology, this tent keeps well ventilated no mater the weather. The excellent ground vents bring in cold air, even in the rain.
The flysheet comes with two side panels that can be opened and tied to the side guy ropes . By pulling on a cord, the entire rear flysheet may be raised from inside the tent. In the bedroom, there are two gaps between the flysheet and the ground on either side to allow the air to refresh itself and limit natural condensation.
wind resistance in stormy weather
Winner: Marmot Thor 2-Person Tent
This mountaineering tent is ready to handle extreme winds with it's sturdy pole structure.
The Quechua has been tested in winds of up to 30mph which was impressive for a pop-up, but the Coleman pop-up has been tested to a higher level of wind-resistance. Coleman test their tents in simulated winds of 35mph.
Some users have reported issues with the MSR Hubba Hubba collapsing in the wind. Whilst the Easton poles that they use are well regarded as strong and durable, using a one-pole system does make it more vulnerable to high winds.
Keeping cool in warm weather
Winner: Quechua 2-Second 2-Person Tent
An important feature of your sleeping comfort in a 2-person tent is how heated it gets in warmer weather. Mesh windows and vents can really help you remain cool through the night without letting bugs inside. Some, like the Coleman 2-Person Pop-Up, have a mesh roof for watching stars if the weather's nice enough to take the rain fly off.
Also, if you've ever gone camping, you've probably noticed how hard it is to not wake up at the first rays of sunshine. When the sun starts shining, the temperature rises, especially if you have the rain fly on. 
The Quechua pop-up tent features dark interiors that prevent the temperature from rising in warm weather. It's a great tent for camping trips with your friends when you know you stay up and sleep late.
Cold weather camping in winter
Winner: Marmot Thor 2-Person Tent
If you're planning to go camping year-round or extend your camping trips to the fall months, we recommend going for a three-season tent. They'll resist water and winds better and keep you dry in the summer, as well.
For those wilderness explorers who are not spooked by some snow and seriously cold weather, the Marmot Thor is the best option. It's designed for use year-round, and will most likely keep you dry in even the hardest conditions.
Durability: lasting a lifetime
Winner: Marmot Thor 2-Person Tent
This tent really blew us away with how well it managed to stand up to all kinds of weather. It's an excellent expedition tent that will keep you warm and dry in some seriously heavy-duty weather. And the high-quality materials will last longer as well.
So if you're looking for a lasting, weatherproof tent, look no further than the Marmot Thor.
The Big Agnes Copper Spur is lightweight but made using strong materials that should last for years. Whilst they are both durable tents, the Marmot is better capable of consistently dealing with intense weather conditions.
FAQs
Is a 2-Person Tent Good for Two People?
A two person camping tent has a maximum capacity of two people, but that doesn't necessarily mean it's ideal for two-person use. You'll likely feel a little crammed, especially if you're storing a lot of gear with you. 
When you're car camping you can keep some of your gear in the car, so you'll free up some space inside the tent. This way, you can buy hone of the smaller 2-person tents. 
However, if you're going to be camping with two people, there are tents like the Big Agnes tent that are big enough for two. If you're looking for a tent for couples, the Copper Spur is a good choice.
Also, 2-person tents with a vestibule expand your usable space for gear, even if the tent floor dimensions are small.
Which tent is the lightest?
The Big Agnes Copper Spur was the lightest tent that we considered as part of this review. It's super lightweight and can be made even lighter with the fast fly pitch setup.
Can you fit a queen size airbed in these tents?
Fitting a queen size airbed in these tents might be tight, but you should manage for the most part. It will mean you can't bring any gear into the tent so for models like the Sundome, it might mean leaving your backpack out in the rain!
If you're looking to take a queen air mattress camping in your tent, we'd recommend upgrading the size of tent you are looking at to make sure you still have plenty of room.
Are Smaller Tents Better in Bad Weather?
Smaller tents can be better in poor weather conditions, especially if you're experiencing a lot of wind. When the poles are shorter and there's less fabric, there's not as much for the wind to catch—and possibly break. This is why they're better for a mountain trip than a larger tent.
The bad thing about small 2-person tents is that if your tent is not good quality, you'll be closer to any leaks on the roof. A big 6-person tent, for example, will usually be taller than a 2-person tent, and have longer, more vulnerable poles.
If you're going to be camping in the winter or fall, makeminim sure you opt for a good 3 or 4-season tent. Both are great for camping in unpredictable weather, but good 4-season tents or winter tents will likely cost you more.
The difference between them is that a 3-season tent will be enough for most rain and wind. Four-season tents, on the other hand, can survive harsh winter conditions, from heavy rains to snow and seriously cold weather. They'll also be better for desertic situations with sand combined with rough winds.
What's the Difference Between Single-Wall Tents and Double-Wall Tents?
Double-walled tents are much better for keeping water out than single-wall tents. Unless you're sleeping in the desert, you'll get some humidity overnight from dew, and it can condensate on the inner walls of the tent. The additional layer of fabric keeps the humidity away from you. 
When you're sleeping in a small 2-person tent, it's a good idea to keep dry with a double-walled tent, even if you're not expecting rain. All the 2-person tents in this review are double-walled and protect you from humidity well. With most, you can remove the rainfly for improved ventilation when there's good weather.
Do You Need a Vestibule?
A vestibule can be handy, especially in a small, 2-person tent. It gives you more space to keep your backpack protected without occupying your sleeping room. You can also leave your dirty shoes or wet clothes inside the vestibule if you get into bad weather.
Vestibules can also be useful when cooking in poor weather conditions. They give you just a little bit of protection over your head, but help you keep the humidity and smells outside. Some tent models, like the Big Agnes Copper Spur, have an awning-type vestibule that gives you even more coverage for sitting outside.
Do You Need a Footprint?
A footprint is always a good idea if you know there may be rain at some point of your camping trip. The footprint adds another layer of protection between you and the ground, which is key if you're sleeping without an air mattress or cot. It will also protect your tent bottom from scratching or breaking due to small rocks.
Just make sure that the footprint is exactly the same size as the tent floor or a little smaller. If the footprint comes out from under the tent bottom, even just a little bit, it can turn into a pool of water pretty fast. The best option is to buy your footprint from the same manufacturer as the tent.
Winner
The best 2-person tent in our review is the Coleman 2-Person Sundome. It's a great, super affordable option for a basic car camping tent for one or two people.
Coleman's two person camping tents are generally really good value for the investment. They have good weather protection and extras, and this one is no different. For a tent that's this affordable, the quality is really unbeatable. 
We especially recommend this tent for new wilderness fans who aren't sure about making a big investment. But, if you're more experienced or need a fast pop-up or ultralight backpacking tent, check out the other tents on our list!