Looking for a huge tent? A 12 person tent is the solution to your problem. Read on for our best 12 person tent review.
We've done the leg work. We've hit the shops, read all the tent reviews and used our shared lifetimes of experience in the great outdoors to bring you the definitive guide to the best 12 person tents for camping.
You don't need to worry about leaving anyone out of these colossal tents. There's room in the tent for the whole gang.
So stick around as we get into why these tents are the best of the best.
In a rush? The best 12 person tents are:
Scroll right to view all products >
| | | | | | |
| --- | --- | --- | --- | --- | --- |
| | Best Overall | Best Canvas Tent | Best for Families | Best for Friends | Best for Wide Doors |
| | | | | | |
| Ranking | 1st | 2nd | 3rd | 4th | 5th |
| Rating /5 | | | | | |
| Review | Not a fan of canvas, but still after a long-lasting tent? This one's the way to go. | If you want a tent that'll last for years, consider the Teton. | If you want a tent with an easy setup and a light, the CORE has both. | For those who want optimal privacy, the Ozark Trail's three room setup should work. | If you have lots of gear and struggle to get it into the tent, this one has two wide doors to help. |
| | | | | | |
Our quick recommendation
Too busy to go over why we think these tents are great? That's fine, here's our quick takeaway.
Our favorite 12 person tent we reviewed was the Eureka! Copper Canyon LX 8 / 12 person tent. It's a durable and protective cabin-style tent that is spacious enough for plenty of campers. Plus, tall campers need not worry about hitting their heads in this tent thanks to the MASSIVE seven foot ceiling.
the best value for money?
If you're looking for a tent that will give you the most bang for your buck, we thought the Eureka 8 / 12 person tent offered fantastic value for money that should leave you more than satisfied.
The other tent that impressed us when it came to finances was the TETON Sierra 12 person tent. Although the price tag on this tent is a little steep, canvas tents are super tough and durable meaning you will get DECADES of use out of this tent. It's well worth the cost if you can afford it.
best 12 person tents compared
Best Overall
Not a fan of canvas, but still after a long-lasting tent? This one's the way to go.
Pros
Detachable room divider provides privacy

Ample headroom for tall campers

Large windows allowing light inside
Simple setup means no struggling with poles
Cons
Not great for cold weather camping
Velcro window covers sometimes allow water into the tent around the window's edges
If you want a family camping tent that'll withstand most weather without the bulk and commitment of a canvas one, here's the tent Eureka! Copper Canyon 12.
This 12 person cabin tent is suitable for 3 season use and will do wonderfully in the rain, but it's lighter and more like your standard tent. The steel and fiberglass frame stands strong, and it's easy to assemble if you bring a friend along.
Ensure your friend is tall, because there's tons of head room in here with a peak height of 7 foot. Consider bringing a stepladder on your trip. You can easily stow it in the corner of one of the two large vestibules separated by a curtain in the center of the Eureka Copper Canyon 12 person tent.
The two spaces allow for excellent liveability and privacy for camping with a group of friends. Set up a table and chairs in one and pile your sleeping bags into the other, giving the place a cabin-like feel.
Its ample floor space ensures there's plenty of room to sprawl out at night, so long as you're careful not to punch a fellow camper in the face. Though it's decently roomy, it's no queen-mattress-to-yourself type of space.
For smaller parties, you could fit four queen size beds in the tent in total, but you'd have to use both rooms as sleeping areas, and it'd cut the tent's capacity down to eight. If that's alright with you, then go right ahead.
You can easily deflate the mattresses by day, set out the chairs, unveil the large windows and relax in your private cabin.
Though there's a minor issue with the windows—the waterproof covers hang loose and attach lightly with velcro, allowing cold air through the mesh, so it's a tent best made for summer camping.
Velcro also isn't as reliable as a zipper, so some water may leak through around the windows' edges.
If this is a concern for you, consider a small full coverage tarp to hang over the windows. This will block out light, but you can use the electric cable port to bring in a power supply to fire up an electric lamp you were storing in the overhead storage pockets.
---
Best Canvas Tent
If you want a tent that'll last for years, consider the Teton.
Pros
Withstands strong winds and rain
Extra-wide door to allow your camping gear to pass through
Ventilation and e-cable port are easily accessible
Clear door works as a window
Lots of headroom for tall campers
Cons
Comfort capacity is closer to 8 than 12

Lacks privacy

without separate rooms
Are you a family of camping lovers who want a 12p tent that'll last and withstand any season? Consider a canvas tent. They're not for everyone, but they certainly have their upsides.
This TETON tent advertised for 12 people is a prime example of a canvas tent with its ups and downs.
Up: The sturdy canvas material can weather any storm, while the extra-wide clear front door lets light in day and night.
Down: It's a one-room tent, so you won't get much in the way of privacy. This is definitely a tent for families, and tight-knit ones at that. Perhaps it's a tent to raise the camping kids in to ensure you remain close enough to use the tent even when the moody teen years hit?
Other downsides include the price and the bulk. This is no tent to take lightly in any sense of the word.
With that aside, you won't find much wrong with the tent. There are vents built-in, so the thick canvas fabric doesn't smother you. There is an electric cable port so you can light up the room with brightness and entertainment.
Speaking of entertainment, this tent doubles as a canopy. Zip-off the floor and set up the tent in your backyard for a party rather than a home away from home while camping.
Once you reattach the floor, it goes right back to being durable and weather safe. You'll find no leaks with this tent, thanks to the heavy-duty welded floor and the reinforced seams.
The floor is barefoot safe so little ones can run around on it all they like.
Speaking of little ones, the 12-person capacity works best if most of the campers are children. Though 12 people fit in the tent, it has an actual capacity of eight.
The last downside is that the tent doesn't come with a stovepipe, but taking it to a seamstress will enable you to add one yourself. You could also add some mesh windows, a privacy curtain, or a whole host of things the tent is lacking. That's the great thing about canvas: you can alter it to fit your needs.
---
Best for Families
If you want a tent with an easy setup and a light, the CORE has both.
Capacity: 12 | Weight: 48.58lbs | Dimensions: 18' (W) x 10' (L) x 6"6' (H) | Bag Dimensions: 52" x 13" x 13" | Doors: 2 | Power Cord Vent: Yes | Hydrostatic Head Rating: N/A | Price: $$
Pros
Plenty of space for the whole family to spread out
Mesh ceiling provides excellent views of the night's sky
Instant setup is super easy for a tent this size
Two attachable room dividers
Cons
Can be vulnerable in high winds
Family road trips to your camping spot can be exhausting, especially with tons of kids.
All you want to do is get in the tent and relax as soon as you arrive. You dread set up, so for that, you need a 12 person instant cabin tent. Preferably a 2 or 3 room instant cabin tent, so you can have some privacy while your kids play the night away.
This CORE 12 person instant cabin tent has ample room for all of you and fits three queen size air mattresses, fit for up to six people. It fits double that amount if you all sleep on the ground, or many of your group are kids.
The spacious floor plan in the twelve person cabin tent also allows room for gear, accessible at any time of day thanks to the lighting system.
Once you've got those set up, you can camp in all weathers and seasons, covering the large mesh windows and doors while still having light. Once it's dry, rip off the rainfly and let light stream in through the tall ceiling as well as the windows and doors so you can stargaze from the comfort of the tent.
All in all, this instant cabin tent has several features that kids will benefit from, including a side entrance for easy access.
---
Best for Friends
For those who want optimal privacy, the Ozark Trail's three room setup should work.
Pros
Three separate rooms for privacy or storage space
Excellent, large awning to spend time under
Many windows flood the tent with light
Cons
Won't withstand wind
Tent fabric tears easily
This Ozark Trail 12 person tent is excellent for livability and privacy. It features three rooms so you can sleep kids and parents apart, or create closer-knit subgroups of the friend gang.
The instant setup is super easy thanks to the pre-attached poles.
With each room you get ample space, enough for four sleepers in sleeping bags or two on air mattresses, so there's no arguing over who gets the larger vestibule.
Once day comes, you can all huddle outside under the awning and relax, free of the sun's harshest rays or the light drizzle of the wetter seasons. This awning space is included in the overall dimension specifications of the tent.
If it's too rainy to use the awning, you can still create a communal experience inside. Open all the doors so the room feels like one, and have your fun. If you're worried it'll be too stuffy when hanging out indoors, there's a ground vent in each vestibule to mitigate your fears.
You can also keep the windows open to let the outside in, although if you worry the rain will leak in, all seven windows are closeable, and you can roll fabric over the main door.
Unfortunately, you can't pull fabric over the outer doors that lead to the outside. Plus, it'll do well and won't leak in rain, but when it comes to wind it's a little weak. The fiberglass poles are prone to buckling and any blowing debris may rip through the tent fabric.
Stay on low ground and avoid storm-prone areas and you can't go wrong when using this tent.
---
Best for Wide Doors
If you have lots of gear and struggle to get it into the tent, this one has two wide doors to help.
Pros
Lots of headroom for taller people
Two wide doors makes getting in and out easy
Several handy mesh storage pockets for personal belongings
Cons
Some minor issues with waterproofing from Coleman
Limited customer feedback at the time of review
Coleman is a classic brand for high-quality, low-cost tents and this newer release is no exception. Released less than a month before the time of reviewing, the model so far seems to live up to the hype of the rest of the Skydome range.
This dome tent is an upgrade on some of the smaller models released in early 2020 and appears to share their simple construction. It's a simple setup with poles attaching to fabric via clips instead of poles, and it's quite tall for a dome tent giving you space to walk around.
Coleman's 8-person model is tall enough at its peak to accommodate a grown man at peak height—it's safe to assume the 12 person tent is even larger.
Unfortunately, Coleman hasn't released its exact dimensions but states you can fit three queen size air beds inside. This gives it a comfort capacity of at least six, but you'll be able to fit more people in if you utilize sleeping bags instead.
As most Coleman tents have a comfort capacity of two fewer than their max capacity, we can assume 10 people in sleeping bags will work well in this tent.
If things get too crowded, utilize one of the two wide doors to let some air in or escape from the tent. Before you go, you can store your personal items in one of the storage pockets around the tent to keep them safe while you're out. There are mesh pockets on every wall.
During rain and warm weather, you can also get some relief from a stuffy sensation in the tent. There are two ground vents low down, so you can let air in that way while you're protected by the hefty rainfly. The fly covers one of the doors and has an awning over the other to stop rain dripping down the mesh.
Unfortunately, you may still have a few issues in the rain. Though customers haven't given much feedback yet, they almost always find issues with Coleman tents and leaks along the seams, even when they're inverted.
It'd be a wise move to invest in some seam seal and waterproofing spray when using this tent. It'll add to the cost, but customers tend to report excellent durability in Coleman tents, so it's worth it in the long run.
They also speak openly about how if any of the tent's components fail, Coleman is quick to send you a replacement free of charge. So, theoretically, this tent could last years and is worth the investment.
---
Which tent is right for you?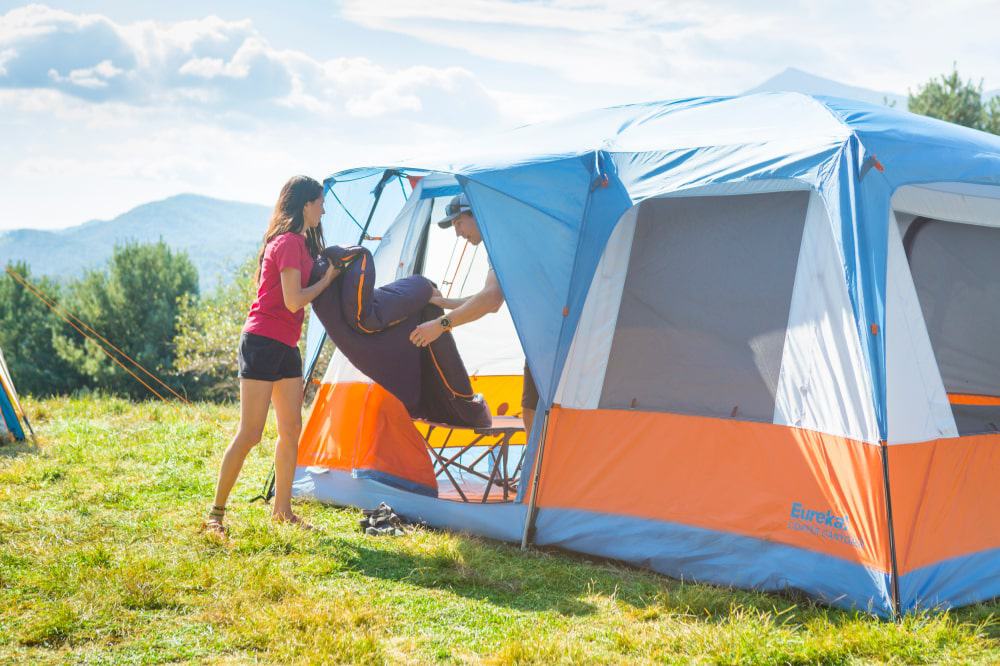 Which 12 person tent is best for 12 Campers?
Top tent for 12 people: Ozark Trail 3-Room Tent
For the most part, 12-person tents can be relatively comfortable for campers, but they're better with fewer people.
Much of the time, tents are more comfortable with two fewer people than their max capacity states. With that logic in mind, 12 person tents are best for 10 people but can work for 12.
The Ozark Trail tent is the most comfortable option for 12 people as the three rooms provide some extra privacy. Splitting the tent into separate rooms means you don't all have to sleep together, which might be handy for trips with bigger groups.
Best 12 Person Tent for a Family
Top 12 person family tent: CORE 12-Person Instant Cabin Tent
The best 12 person family camping tent is the CORE 12-Person Instant Cabin Tent, thanks to its lighting system, which is great for young kids. It's also incredibly spacious, so you can store all the extra gear that comes with having kids.
Related: For more, check out our reviews of the best family and car camping tents.
What Is the Best 12 Person Tent for a Group of Friends?
Top 12 person tent for friends: Ozark Trail 12-Person 3-Room Tent
The best 12 person tent for a group of friends is the Ozark Trail 12-Person 3-Room Tent, which is down to its evenly sized and wholly private three rooms. The awning to hang out under by day also makes it fantastic for friends who want to kick back in nature but not necessarily explore it that much.
Which tent offers you the most comfortable experience?
Top 12 person tent for comfort: Ozark Trail 12-Person 3-Room Tent
If you have less than 12 people with you on your trip, you can use two of the bedrooms in the Ozark Trail tent for sleeping and the other as a room for extra storage or socializing if the weather is poor.
The covered area created by the awning is also excellent for cooking outside or sheltering from the sun.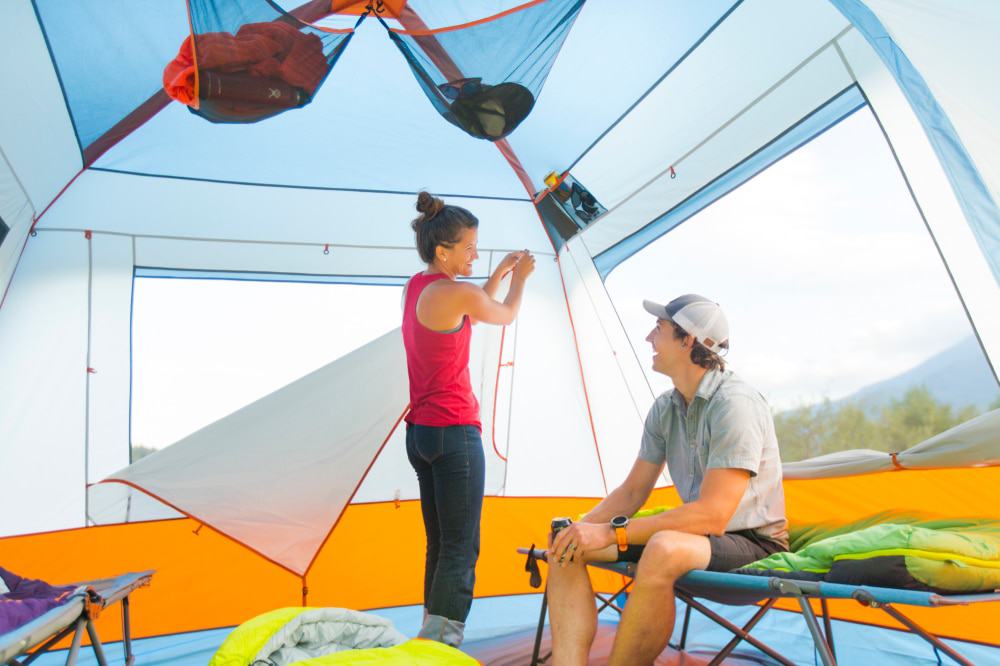 Which tent has the best storage space for gear?
Top tent for storage: Ozark Trail 12-Person 3-Room Tent & CORE 12 Person Instant Cabin Tent
The three rooms wins it again for the Ozark Trail tent.
You can use one room entirely for storage if you aren't bringing 12 campers. You can also use the covered outdoor area to store some gear as well if the weather is mild.
The CORE 12 person instant cabin tent features the largest floor space, so it's naturally a winner here as well. There is plenty of storage space in the tent.
That said, the TETON Sports Sierra Canvas Tent features an incredible center height, so if you were to pile your gear up, the tent would also have ample room to store it.
It's true the bulk of the peak height is in the middle, but that doesn't seem like a bad place to store your stuff. If anything, a clump of gear at the center could serve as a small privacy barrier as privacy is where the TETON tent falls flat.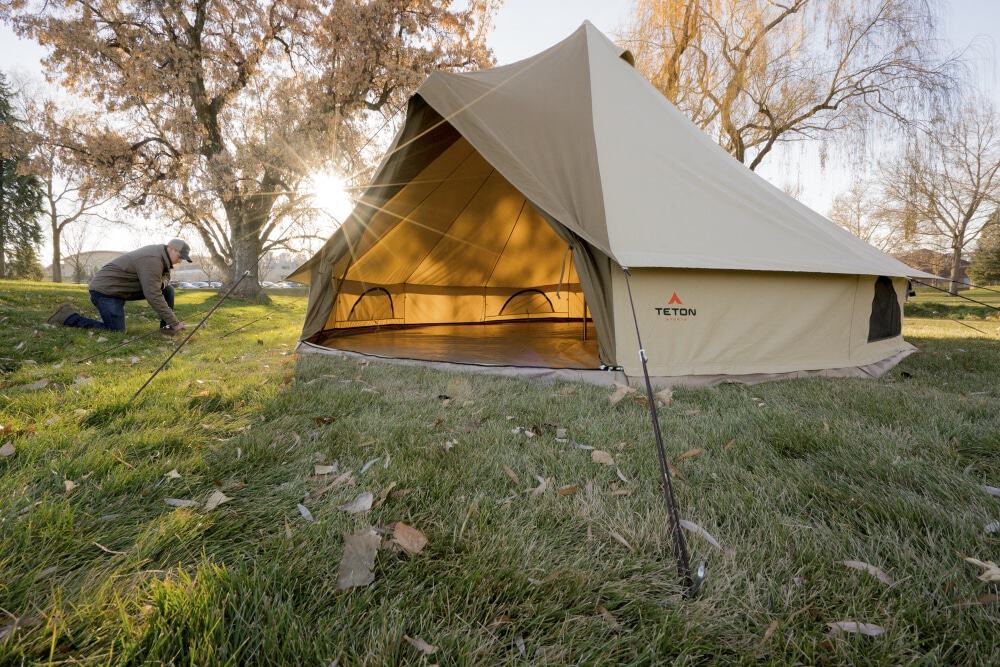 Easiest camping tents for setup
Can These Tents Be Set up by One Person?
It depends on the tent, but for the most part, yes, 12 person camping tents can be set up by one person.
Setup time will be faster with more people involved in the process, though. Plus, popups and instant cabin tents make the setup a breeze.
The most difficult part of the process will be tackling the center height. Ensure you're tall if you're tackling this alone.
Also, be sure to read any instructions that come with the tent. Some tents will specify that they're best set up with two or more people. That enormous center pole in the TETON Sports Sierra Canvas Tent will likely be a nightmare to set up alone.
Best tent for A quick set up – try an instant tent!
Top tent for quick setup: CORE 12-Person Instant Cabin Tent
The 12 person instant cabin aspect of the CORE instant tent makes it the clear winner for setup. The instant pitch technology means this tent can be set up in a matter of minutes.
With that in mind, the TETON Sports Sierra Canvas Tent is pretty easy to set up, too. Its setup centers around the tall pole in the middle, so once you've got that up, the rest of it is a breeze.
Are these tents easy to carry?
Although the TETON tent might be heavier than the other tents, it is still easy enough to carry for car camping trips. All of these tents are great car camping tents. However, they are too heavy and bulky to carry as backpacking tents and there wouldn't be any space with your other gear.
Camping tent performance in bad weather
Will these large tents offer enough weather protection to keep you and your fellow campers dry and warm? Which tent will stand strong in windy weather and which tent is only suited to warmer weather camping?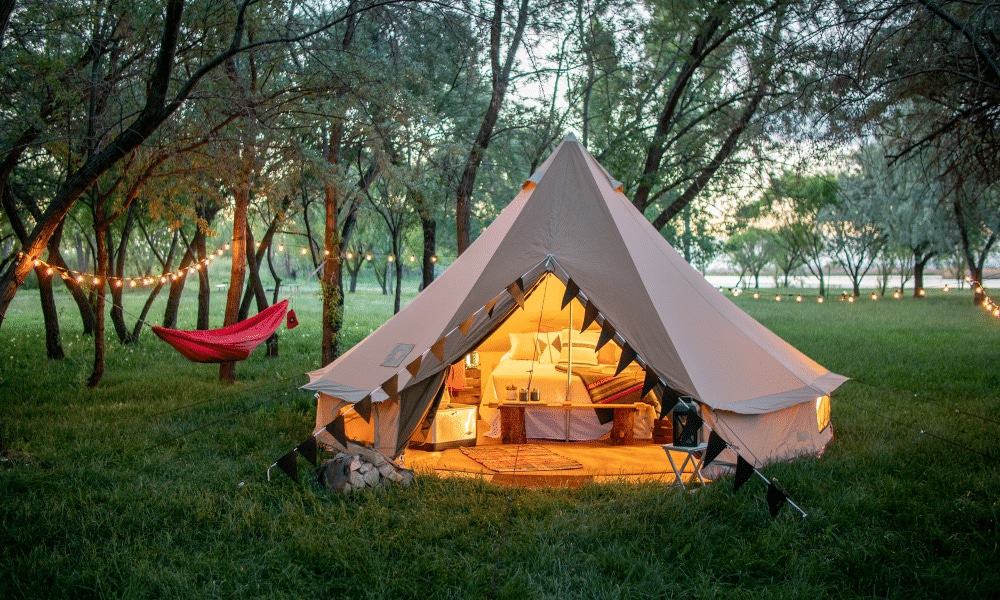 Best 12 person tent in the rain
Top tent for rain: TETON Sports Sierra Canvas Tent
The clear winner in terms of waterproofing, this canvas tent will keep you dry even in heavy rains. Other models have large mesh windows which are great for air circulation but can cause issues in wet weather.
The CORE Cabin Instant tent and Ozark Trail Cabin Instant tent have a shorter rain fly which means that water can sometimes leak into the tent even in light rain. They offer pretty minimal protection from rain.
You should initially spray your canvas with water and let it dry so that the durable material shrinks to close needle holes in your tent before you take it camping. Treating it like this will mean it will keep you dry during your camping trip.
Best for condensation in the tent
Top tent for condensation: Eureka! Copper Canyon LX Tent
This tent features huge mesh windows which help keep condensation from forming. Alongside the mesh ceiling, the windows help in bringing cool air into the tent and pushing warm, damp air out. This excellent ventilation design stops condensation from forming.
The CORE Cabin Instant tent also features lots of mesh which helps keep the tent cool.
Best 12 person tent in the wind
Top tent for wind: TETON Sports Sierra Canvas Tent
Just as this tent can stand up to the rain, it can stand up to heavy winds. It will stay steady in gusts of wind, especially when compared to some of the other cabin-style tents. The cabin tents have straight walls which can get caught in the wind.
The tall tent walls of the cabin-style tents can catch in the wind. This can be especially damaging for instant tents like the Ozark Trail tent which features telescopic poles which once broken are very difficult to replace.
The teepee shape provides a stable structure to the TETON tent which is better suited for harsh weather.
Keeping cool in your twelve person tent in the summer
Top tent for warm weather: Eureka! Copper Canyon LX Tent
Once again those huge windows and mesh roof work together in this tent to help circulate the air and keep the tent cool, even in summer. There's ample ventilation to stop the tent getting too stuffy.
Good tent for winter camping
Top tent for winter: TETON Sports Sierra Canvas Tent
The only tent we would be comfortable camping in during Winter is the TETON Sports Sierra tent. It is made from canvas, a high-quality material, which is a better insulator during cold temperatures than synthetic materials.
Top 12 man tent for durability
Top tent for durability: TETON Sports Sierra Canvas Tent
Canvas is far sturdier than your average polyester tent material, letting this tent last a decade or beyond if you treat it right. It's thick and heavy, which is a downer when you're traveling, but for a group who can't get enough of camping, you can't do much better than a canvas tent.
FAQs: What else should you know?
Will Campgrounds Accept a Large 12 Person capacity Tent?
Some campgrounds may not accept large 12 person tents, but others will. Some camp sites will accept them if you rent two spots. It's best to ask the campground in advance to make sure you're not turned away when you show up for your trip.
If you're needing something a little smaller, check out our review of the top 10 person tents.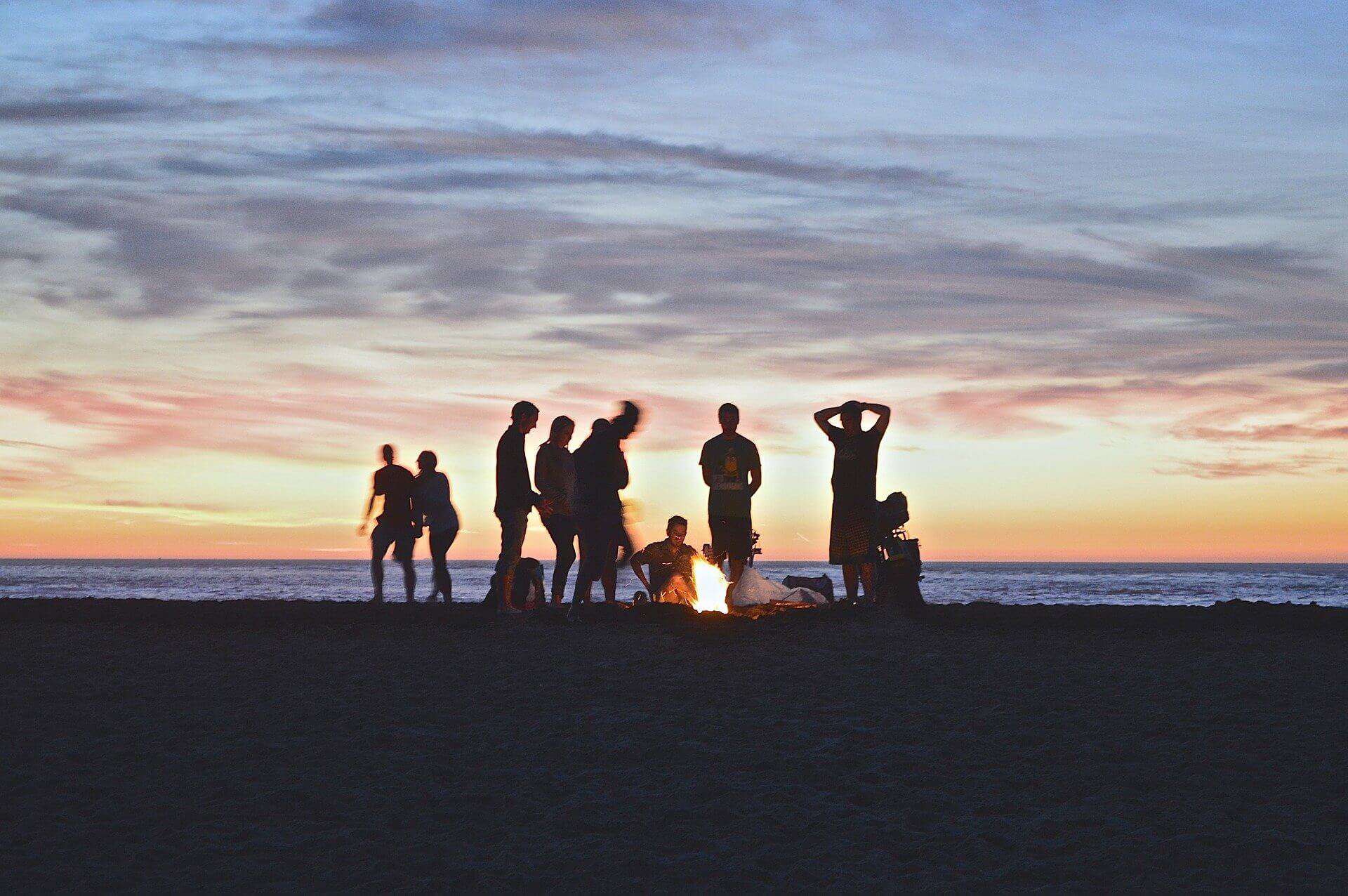 Will a large camping tent offer more privacy?
Privacy isn't a concern for everyone; some families prefer an open space that allows for family bonding time.
But if you're in camp with a group of friends, then privacy is ideal. That's why we consider the Ozark Trail 12 person tent the best 12 person tent for friend-group camping.
The three rooms in the Ozark Trail 12 person tent that allow for two to four in a room let you stay apart by night, but crack open the doors by day and bond as a unit. You can also spend your bonding time outside under the large awning, giving you plenty of options when spending time with your friends.
Other large tents like the Eureka and CORE instant tents come with a removable divider for privacy in the tent.
Related: For more privacy and comfort, check out our reviews of the best 2 room tent and the best multi room tent.
How To Decide if You Need a 12 man camping Tent
Consider the following things when deciding if you need a 12 person tent:
How large is your party?
Do you need multiple rooms/vestibules for people or gear?
Is livability a concern?
How much privacy do you desire in camp?
Are you going glamping instead of camping?
Are you going glamping or camping rather than backpacking?
Your answers to the questions above will help you determine if you need a 12 person tent. A yes to one or more of them points towards yes, a 12 person tent is ideal.
Related: For more information, see our reviews of the best large camping tent.
Best 12 person tent that fits a queensized air bed
These tents are DEFINITELY large enough for a queen sized air mattress. In fact, you can fit two or three queen size airbeds in each of these tents. The Ozark Trail tent lets you put an air mattress unit in each room with space to spare.
Perfect Pitch – the best 12 person tent
Canvas tents are durable, long-lasting beasts of all weathers, we consider the TETON Sports Sierra Canvas Tent to be one of the best 12 person camping tent among this bunch. It's sturdy, long-lasting and versatile, and features a large capacity of 8–12 people for even the most packed of families.
However, if canvas isn't your thing and you need more privacy, then the Eureka! Copper Canyon LX Tent is overall our pick for the best 12 person tents. It features two vestibules that allow for separate sleeping spaces, or alternatively, a sleeping and living space. It may not be as tough as canvas, but it's still a 3-season tent that'll last a while if you treat it right.
Our reviews have shown that both tents will suit different needs but will fulfill them equally well aside from the durability factor.
Next up: Getting cold at night? Find out how to make a tent warmer on cold nights.
Next up, check out our other guides: