Are you thinking about investing in a cabin tent? If so, you're definitely not alone.
Cabin tents are becoming increasingly popular, and for good reason – they offer a lot of advantages over traditional camping tents.
But before you decide to buy a cabin tent, it's important to understand the pros and cons.
In this blog post, we'll take a look at seven of the most important benefits and drawbacks of cabin tents. By the end of it, you'll be able to make an informed decision about whether or not they're right for you!
Are cabin tents good?
Cabin tents are great tents for family camping or casual camping because they're very spacious, come with loads of family friendly features and typically give you a lot for your money. Cons for cabin tents include poor weather performance, low durability, and difficulty in replacing broken tent poles.
Cabin tents are great for casual camping in nice conditions – they're not so good for bad weather or hiking trips.
Related: The difference between a well-made cabin tent and a poorly made cabin tent can make a world of difference. Find out what the best cabin tents for camping are.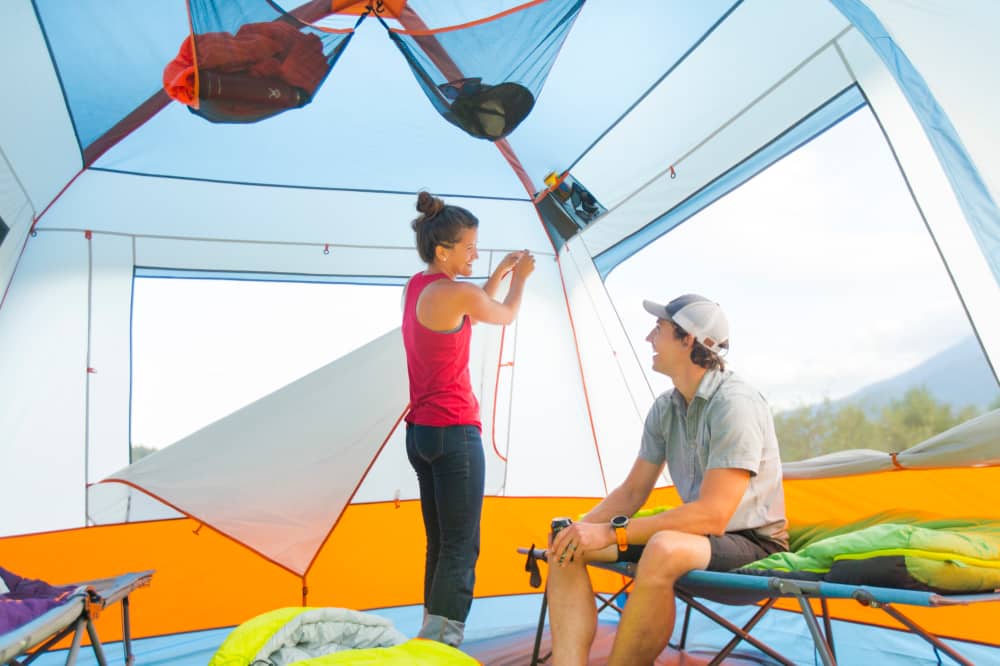 Pros for cabin tents
1. Family-friendly features
Cabin tents come with all sorts of features that are perfect for families. For example, they often have large windows and doors that let in plenty of natural light. This makes them feel spacious and airy. They also have high ceilings, which is great for tall people.
Additionally, cabin tents usually have a lot of storage space, which is perfect for storing gear and supplies. This means loads of storage pockets along the side of the tent, and in cases like the Eureka LX Canyon, gear lofts in the ceiling.
2. Lots of space and very comfortable
Cabin tents come with plenty of space due to the vertical walls. This means family members can spread out and relax in their own space without getting on top of each other.
These vertical walls make you feel noticeably less claustrophobic when you're inside the tent. Cabin tents also come with very high ceilings (e.g. the Eureka Canyon LX models are often over 7 feet high!). These points combined mean that you can comfortably sit inside the tent and play games when it's raining.
3. Typically instant type tents which mean easy setup
Cabin tents often come in an "instant tent" type. Instant tents are tents that come with pre-attached poles. This means you don't have to spend ages looping tent poles through the tent, instead you just extend the pre-attached poles and it's immediately up.
Instant cabin tents are very quick and very easy to set up – perfect for the casual camper who finds loads of tent poles and guy lines tedious. But do be aware that some cabin tents are very large and so even if they're instant tents, they may require multiple people to set up.
Cons for cabin tents
4. Poor performance in wind and rain
Cabin tents perform poorly in bad weather because of the vertical walls. We don't recommend you use these tents in very windy weather or heavy rain because they may not be able to withstand strong gusts of wind.
If you're expecting strong winds, you'd probably be better off considering a dome style tent instead. They're not as family-friendly but they'll do much better against the elements because of the aerodynamic shape.
Cabin tents also firmly targets the casual camping end of the market. This means they make quality sacrifices in order to provide good value for money.
One example of this is that almost all cabin tents only come with a partially covering rainfly. This is fine for summer camping but when the rain starts getting more horizontal in fall, it can become a problem.
A cabin tent is almost always a 2 season tent only. "2 season" isn't literal and instead just means that the tent is made for fair-weather camping.
5. Often not made of very durable materials
Cabin tents are often made of cheaper materials such as polyester and fiberglass poles. These materials are fine in standard conditions. Fiberglass tent poles are not as durable as aluminum tent poles but they're still strong enough to handle fair weather.
Build quality on some of these tents can also be an issue, given that they're low cost. So do make sure you pick up a well-made cabin tent.
But you will find that the tent poles are less likely to last as long. Fiberglass is quite brittle and not as strong as alternatives such as aluminum.
6. If instant type tents, it's difficult to replace tent poles when they break
And when the fiberglass tent poles break? If your tent is an instant tent with pre-attached tent poles, you may find it tricky or borderline impossible to replace these. This potentially means buying a whole new tent.
However, we should say that most casual campers often get many years of use out of their tent.
7. Quite heavy and poor for portability
Cabin tents are typically very heavy and not as portable as other types of tents. This can be a disadvantage (i.e. impossible!) if you're looking to take your tent on hikes or travels.
For most people interested in a cabin tent this shouldn't be an issue though, as they're made for car camping situations. But if you're purchasing a large cabin tent then do check its packed size to make sure it fits in your car.
Next up: Trying to pick between a cabin tent and a dome tent? Check out our guide to cabin tent vs dome tent.
Previous: If it's still not clear, let's go back to the basics. What is a cabin tent?